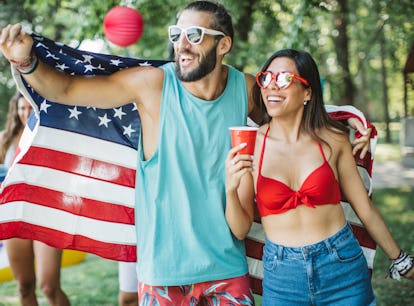 40 Fourth of July Captions To Use For Your Lit Instagram Pics
"This time I'm really going off, fireworks."
svetikd/E+/Getty Images
Fire up the grill, turn up the music, and get lit, because America's birthday is here. This Fourth of July, sparkle all night and day with your independence-bae or red-white-and-crew and celebrate what makes the U.S. great — all of us. Whether you're serving up hot dogs or spilling revolutionary tea with your besties on July 4, you'll want to capture your patriotic summer memories. Snap a photo and show how you throw a birthday bash for Uncle Sam with these 40 Fourth of July 2022 captions for Instagram.
It's the one day of the year where everyone dresses in the same theme, so make sure to capture all the group shots from the BBQ to the bonfire. If you're taking the party to the beach, don't forget a portable speaker for your "Party in the U.S.A." playlist, plus a cooler for a cold sip that sparkles. Pack a delicious summer salad or festive Fourth of July treat to-go to keep the party popping into the night. The photo opps are endless, and you'll want to pair your patriotic pic with the perfect Fourth of July quotes.
Don't forget to scope out the perfect spot to view the fireworks at the end of the night and get a good shot. When the sun goes down and the bug spray comes out, round up your sparklers and friends for the main event. As the colors burst amongst the stars, take advantage of the bright lighting and capture a lit photo to pair with one of these Fourth of July 2022 captions for Instagram.
"Red, white, and brew."
"I like my beer cold, my coffee black, and my tea in the harbor."
"Sweet like apple pie."
"Freedom is never for free."
"HBD U.S.A."
"It's 4th of July weekend, or, as I like to call it, 'exploding Christmas.'" — Stephen Colbert
"She was an American girl." — Tom Petty and the Heartbreakers, "American Girl"
"Own the night like the fourth of July. 'Cause baby. you're a firework." — Katie Perry, "Firework"
"Raise a glass to freedom, something they can never take away." — "Hamilton"
"U.S. of YAY."
"Did you hear the joke about the Liberty Bell? It'll crack you up."
"Keep calm and sparkle on."
"It's lit."
"Feelin' bae-triotic."
"Red, white, and my boo's."
"Red, white, blues, in the sky. Summer's in the air, baby, heaven's in your eyes." – Lana Del Rey, "National Anthem"
"Oh say can you Sea."
"Uncle Sam called, he wanted his freedom back."
"Independence Bae."
"Stars, stripes, and everything nice."
"American dreaming."
"It's not the Fourth of July if I'm not holding a hot dog."
"This time I'm really going off, fireworks." — Drake, "Fireworks"
"Got me seein' them fireworks, I'm on my Katy Perry." — Nicki Minaj, "Get On Your Knees"
"Miss Americana and The Heartbreak Prince, We're so sad, we paint the town blue, Voted most likely to run away with you." – Taylor Swift, "Miss Americana and the Heartbreak Prince."
"Walk my way, Mrs. All American." – 5 Seconds of Summer, "Mrs. All American"
"Born to sparkle."
"I WANT YOU … to like this photo."
"Young, wild, and free."
"Sweet land of li-beer-ty"
"Spilling revolutionary tea."
"Oh my god, you look like the Fourth of July! Makes me want a hot dog real bad." – "Legally Blond 2: Red, White, and Blonde"
"You make me melt like a popsicle on the Fourth of July."
"Let freedom bling."
"Red, white, blue, and BBQ."
"Party like it's 1776."
"National Treasure 3"
"It bleeds, it scorns, but it shines when times get hard. You can't break an American heart." — Faith Hill, "American Heart"
"Nothing's sweeter than summertime and American honey." — Lady A, "American Honey"
"They're playin' my song, I know I'm gonna be okay, Yeah, it's a party in the USA." — Miley Cyrus, "Party in the USA"