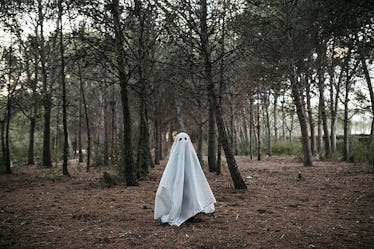 Paranormal Experts Reveal 8 Spooky Signs Of A Haunted House & How To Talk To Your Ghostly Friends
A dish breaks. A door slams. You're always getting the chills, and you feel off when you go into certain rooms. Yes, it can all be explained away by one reason or another, but after a few repeated, rather spooky incidents, you may start asking yourself: Is my house haunted?
Trust me, I've been there. To this day, I 100 percent believe I have lived in a house that was occupied by someone or something from "the other side." And whether you like it or not, and no matter what you believe, the factual or fictional presence of ghosts and ghouls kind of goes up tenfold the closer we get to Halloween.
In fact, when I spoke to metaphysical expert Dr. Athena Perrakis of Sage Goddess a few weeks ago, she informed me that traditionally, this time of year has long been thought of as a time when spirits are more likely to be present and willing to make contact. In Gaelic tradition in particular, this time of year marks the end of the harvest season and the beginning of the "darker half of the year." Referred to as Samhain, the celebration is one in which the boundary between the physical and spiritual world is thought to become thinner.
So yes, according to these beliefs, it could be totally possible that if your house is haunted, it's particularly active right about now.
Lucky for us, Elite Daily had the chance to touch base with experts in the realm of hauntings and ghostly visits, who have been kind enough to give us a few tips about what to look out for if you think have an extra spooky roommate living with you.