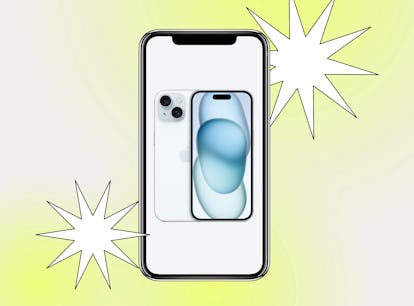 I Tried The iPhone 15 To See Whether It's Worth The Upgrade
A college student puts Apple's newest model to the test.
As an undergrad, my iPhone is easily one of my most valued possessions. On or off campus, it's my trustworthy BFF for helping me find my way to class, connecting me with my classmates, and navigating my way home after a night out. The one downside is usually the initial expense. Now that Apple's released its newest line of smartphones (including one in a new Barbie pink color), it was time to figure out whether or not to upgrade my iPhone 14 for an iPhone 15.
At first glance, the iPhone 15 — which starts at $799 — definitely comes with some cop-worthy new features, like a contactless way to share your phone number and a more precise version of Find My Friends. Not to mention the new camera and zoom lenses are elite. However, some reviewers have complained that the iPhone 15 overheats after extended use and that the setup process is too complicated.
There's also the fact the iOS 17 update provides many of the older iPhone models with the same upgraded features, so it's hard to tell whether the new phone fully lives up to the hype. So, when I had the chance to try it out for a week, I decided to put new features like the iPhone 15's universal charging port, the Dynamic Island feature, and updated camera to the test.
The New iPhone 15 Colors Are Super Cute
Let's be real:We all love aesthetics, and choosing to buy things in your favorite colors can give you a little extra dopamine. The iPhone 15 makes it easy to match your phone to your vibe with the addition of five new colors: yellow, green, blue, black, and my personal favorite, Barbiecore pastel pink. The girlies have been *waiting* for Apple to come out with a true pink color, and the brand delivered with this adorable hue. So, if you're looking for a color upgrade, then the iPhone 15's new palette might be of interest.
My iPhone 15's Battery Life Lasted Past My 2 a.m. Bedtime
IMO, there's nothing more annoying than having to worry that your phone will die or feeling like you always have to carry around a charger just in case. This is only magnified for a student who takes late classes and lives off campus like I do.
For me, the new iPhone solved this problem. I spent a whole Saturday out from 11:00 a.m. to 2:00 a.m. the next day without charging my phone in between, and the battery still had juice by the time I got home. Granted, this could have been because I didn't spend much of the day on my device (for once), but the lasting power was still pretty impressive and made me feel better about going out late at night because I didn't have to worry about whether my battery would last. At the end of the night, I felt like I could call someone if I needed to or order an Uber to get home safely.
I Used The NameDrop Feature To Swap Info With A Classmate
NameDrop, a new iOS 17 feature that's available to any iPhone user with the update, allows you to share your contact info by bringing two phones together instead of having to physically exchange numbers. I tested this out while in class when I needed another student's number to share notes, and it came in handy because we didn't have to switch phones, create a new contact, and type in our info. All it took was a quick tap. This also works with AirDrop and SharePlay, so you can share your fave playlist or pics just by bringing your phones together.
The Universal Charging Port Gave Me Less to Carry
Personally, I hate carrying around a ton of chargers; it's added weight, plus I have a habit of forgetting my iPhone charger and only bringing my computer cord. With the new iPhone, I only needed to carry around one since the new universal charger works for both.
Looking into the future, I'm excited that it'll make packing while traveling more efficient because I won't have to worry about carrying around a bunch of tangled cables.
The Camera Updates Gave Me Clear, Crisp Pictures That Are Easier To Edit
Apple always ups the camera quality with new updates, and with the iPhone 15, the camera quality was significantly better (four times better, to be exact) than the iPhone 14 I have, thanks to the iPhone 15's 48-megapixel main camera versus the iPhone 14's 12-megapixel main camera. That's a big upgrade, and it was truly giving eyeball-like vision when I took some photos of my 'fit at my apartment building. Even though I was in a dark hall and wearing all black, I thought the details of my face, my hair, and my clothes still popped against the background.
The updated Photos app also gives you the option to add portrait mode after you snap a pic, which I liked. You can also change the focal point after the photo has already been taken. These updates are super helpful for anybody who's taking a photography class, capturing some videos for TikTok, or snapping memories from vacation.
Lenses With A Closer Zoom Let Me Capture The Board in Big Lecture Halls
The iPhone 15 also comes with more advanced lenses that can shoot super close-ups compared to earlier models. The 2X lens was a game-changer for a college student who sits in a giant lecture room. During my science lab, I used this tool to take pictures of notes and formulas on the board, and the photo was so clear even though I was sitting in the back of the room.
This feature would also be great for a concert if your seats are higher up but you still get quality videos where you can actually see your favorite artist as if they were in front of you. If only I had this zoom feature when I went to see Beyoncé's Renaissance Tour.
Courtesy of Jordan Murray
Courtesy of Jordan Murray
StandBy Mode Turned My Phone Into A Customizable Alarm Clock
This is by far the coolest new feature you get with iOS 17. When I charged my phone at night, I propped it up on its side and while horizontal, the home screen changed to an alarm clock-like display featuring an analog clock and a calendar. The cool display kind of looked similar to the TikTok-viral digital clock.
When I woke up, I tapped the calendar, and it immediately took me to the Calendar app so I could see what I had planned for the day while keeping the time display. I preferred the simplicity of the clock and calendar, but you can customize what you want your screen to look like. For example, you can have a photo of you and your SO with the time displayed in the top right corner or you can add the Weather app widget to your display.
It also displays live activities, so you'll still get notifications from live apps without having to open the app itself. That doesn't mean you'll be bombarded with flashing notifications, though; once in StandBy mode, your screen adapts to Dark Mode with low, red lighting and font colors. This was great for me as a chronically online college student with an internship because my notifications still popped up while I tried to sleep or studied, but they didn't bother me.
If you move your phone to a different location, like switching it from your room to your kitchen, your phone is supposed to remember your preferred StandBy mode setup for each place. When I tested it out, however, StandBy mode never really remembered the previous setup and went to different settings each time.
The Find My Friend Precision Feature Brought Me Right To My Besties
This new iPhone 15 feature makes finding your friends while at school or out at a club, party, or concert a whole lot easier. When I was trying to find a friend on campus, I used Precision Finding to have an arrow guide me directly to them. This was so much easier than having to drop a pin or guess where someone is within a certain vicinity.
Dynamic Island Simplified Access To All My Live Apps
Dynamic Island is the iPhone 15's new ultimate multitasking tool that allows you to control all of your live apps just from a little bubble at the top of your screen. If you set a timer to do homework while listening to music, you can have access to both of those apps without having to actually open them. It also notifies you of low battery while showing you what listening device is attached to your phone. All I had to do was tap the bubble and it expanded so I could adjust whatever you needed, whether it was hitting "next" on my Spotify or checking out scheduled classes from my calendar.
Overall Thoughts
After testing it for a week, I though many of the iPhone 15 features were really helpful for students, especially the ones that enhanced productivity and made it easier to find and connect with other people. I didn't notice my iPhone overheating, although I'm not a gamer and most of the complaints were about iPhone games. It was also pretty easy for me to set up my iPhone, although I think it could have been a little more streamlined. A few of my apps like Spotify and Instagram didn't immediately transfer, but when I re-downloaded them, no sign in was necessary. I was immediately taken to my profiles once I tapped on the icon.
As someone who's a creator, I appreciated how the iPhone 15's camera updates and enhanced lenses were great for making TikToks and taking pics for Instagram. I also thought the iPhone 15's colors, universal charging port, Find My Friend Precision, and battery life made the new model worth getting.
That being said, most of the best new features, like NameDrop and StandBy mode are available through the iOS 17 update and you'll still have access to them on some older phones. If you're thinking about upgrading to the iPhone 15, I'd recommend prioritizing what features are most important to you before making your purchase.