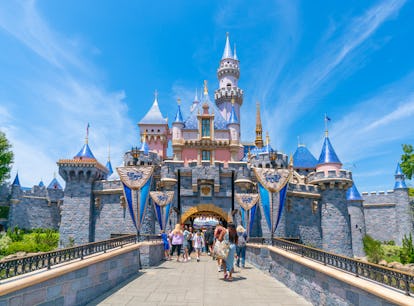 Here's How To Save Money At Disney Parks In 2022, According To Experts
It's worth it to rope drop!
AaronP/Bauer-Griffin/GC Images/Getty Images
Going to Walt Disney World or Disneyland can be a truly magical experience. However, going to a Disney park can also be quite an expense at the same time. While a trip to Disney is not cheap, there are plenty of ways to make your vacay more budget-friendly. With the help of some Disney experts, we've assembled tips on how to save money at Disney parks in 2022 with Disneyland money saving tips.
If you've been researching for an upcoming trip, you may have noticed recent additions to the Disney planning experience with Genie+ and Individual Lightning Lanes. These perks for an additional cost can help you bypass some of those long lines, but are they worth the added $7 to $20 on top of your ticket? And what about all that delicious Mickey Mouse-shaped food you've been eyeing on Insta. Is it possible to try every Disney snack on your to-eat list without completely going over your food budget? Plus, what are some items you can bring with you from home, so you won't have to pull out your wallet as much when you get to Disney?
These are all questions that can be answered with Disney World hacks from anyone who visits the parks regularly, like these Disney experts who spoke exclusively to Elite Daily and shared their best-kept Disney savings tips. Here's how to save money at Disney World in 2022.
The CDC recommends traveling only after you're fully vaccinated and your vaccine has become fully effective. If you're not fully vaccinated and must travel, check the CDC guidelines before you book. Check your destination's vaccination and testing requirements before you depart.