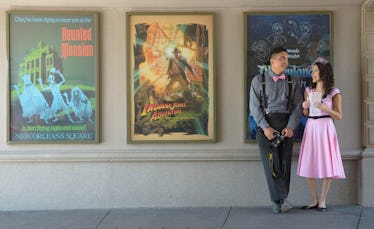 10 Disneybounding Ideas From TikTok That Will Inspire Your Next Disney Vacay
You already have everything you need in your closet.
MediaNews Group/Orange County Register via Getty Images/MediaNews Group/Getty Images
If you're a Disney fan, you've likely heard the term "Disneybound" before. For anyone who's new to it all or needs a refresher, Disneybounding is when you take inspiration from Disney characters when putting together your outfit for the day. This is different than wearing a costume. In fact, Disneybounding is how adults can dress up for their theme park days without breaking the no costume rule. Instead, this is a chance for you to get creative with what's already in your closet, and there are tons of Disneybounding ideas inspired by TikTok that you can check out to get started.
Disneybound originator, Leslie Kay, put together a handy guide to Disneybounding — DisneyBound : Dress Disney and Make It Fashion Book ($10) — that's full of inspiration. There's also the Disneybound blog that is a great resource for outfit ideas based on your fave Disney characters. However, it's the Disneybounding ideas on TikTok that really allow you to see these 'fits in action. Whether you're looking for Disneybounding ideas based on your fave film or just different ways to style one dress into different Disney characters, TikTokers are here to show you the way.
These Disneybound ideas on TikTok are just what you need to see before packing for your next Disneyland trip. You could even take inspiration for a cute Disney themed date night with your partner. These Disneybound TikToks will even come in handy if you're just attending a costume party and don't necessarily want to spend a ton of money on something new. The beauty of Disneybounding is you probably already have everything you need in your closet at home, so go ahead and check out these TikToks for styling inspo.