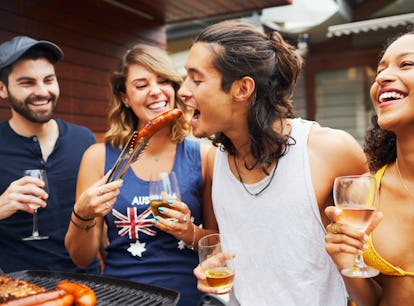 Here's How To Plan A Summer Olympics Party Right In Your Backyard
Tempura/E+/Getty Images
You don't have to be a sports fan to celebrate the Olympics. Hosted in Tokyo, Japan, this summer's games are not only highly anticipated, but also an emotional symbol of all the world's trying to overcome. Around the globe, people will tune in to see sports greats compete for new records and gold medals, and the ever-burning cauldron that will be lit during the opening ceremony, airing on July 23 at 7 a.m. ET live on NBC. Knowing how to plan a Summer 2021 Olympics watch party in your backyard will help you tune in with your BFFs and mark this international moment right at home.
The first step in hosting an Olympics party is to pick a date and time for everyone to come over. If you're feeling particularly excited about the games, you could tell everyone to arrive in time for the opening ceremony, and turn the gathering into an all-day affair. If you'd rather watch Simone Biles compete in a gymnastics event, or snack on barbecue food while Naomi Osaka dominates the court for Team Japan, then you can plan a party for a weekend afternoon. The Centers for Disease Control and Prevention (CDC) says it's safe for fully-vaccinated people to gather with close friends and family without wearing a mask. Those who haven't been vaccinated should still take precautions like wearing a mask and social distancing. This really opens up the party possibilities, provided that the big event isn't canceled. (Remember, the Olympics are facing several COVID-19-related issues, especially with Japan under its fourth coronavirus state of emergency and low vaccination rates.)
During your Summer 2021 Olympics watch party, you could also compete in activities like soccer, KanJam, volleyball, or any of the games from the Office Olympics. You could take pictures with sparklers and grill up veggie burgers, too. Here's how to put together a party that's a flippin' good time for everyone.
We only include products that have been independently selected by Elite Daily''s editorial team. However, we may receive a portion of sales if you purchase a product through a link in this article.
The CDC recommends traveling only after you're fully vaccinated and your vaccine has become fully effective. If you're not fully vaccinated and must travel, check the CDC guidelines before you book. Check your destination's vaccination and testing requirements before you depart.