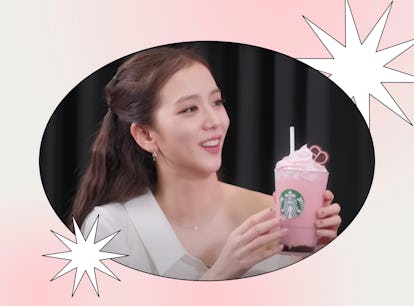 I Tried Starbucks' BLACKPINK Frappuccino At Home & You Can Too
BLINKS, no need to fly to Asia for this one.
On July 25, Starbucks debuted a new Strawberry Choco Cream Frappuccino on their menu in collaboration with BLACKPINK. Unfortunately, the limited-edition BLACKPINK drink is exclusive to customers across Asia, so American BLINKS will either have to fly overseas to try it themselves or do what I did, which is to make their own. The BLACKPINK Frappuccino is basically a Strawberry Crème Frappuccino with a few customizations here and there, so it's simple to recreate at home.
According to Starbucks, the BLACKPINK Strawberry Choco Cream Frappuccino is a blend of strawberry syrup, dark chocolate sauce, oat milk, and chocolate curls with a pink whipped cream topping that is garnished with a heart-shaped chocolate. The members of BLACKPINK — Jisoo, Jennie, Rosé, and Lisa — partnered up with Starbucks to create this drink inspired by their latest album Born Pink. It definitely has the same color palette, with the pink strawberry and black chocolate mixed together.
Lucky BLINKS who have gotten to try the BLACKPINK Frappuccino say that it's "refreshing" like a strawberry smoothie, but with chocolate chunks. The overall vibe is a chocolate-covered strawberry, which can be simple to make at home with the right ingredients. You could even order a similar beverage at Starbucks off their secret menu, and add some final touches at home for the perfect dupe.
How To Make The Starbucks BLACKPINK Frappuccino At Home
If you're making your BLACKPINK Starbucks drink from scratch at home, you'll want to gather all the ingredients you need for the Frappuccino and its toppings. For the base, get the following from the store:
Strawberry Purée
Oat Milk
Ice
In a blender, mix together your strawberry purée, oat milk, and ice to get your strawberry Frappuccino. Then, drizzle some dark chocolate sauce at the bottom of your cup, add in some chocolate chips, and pour your drink on top. This is when you can have fun making your drink as Insta-worthy as the BLACK PINK drink at Starbucks. Get some pink or strawberry whipped cream ($5, Target) and heart-shaped chocolates ($18, Oh! Nuts). Add both on top, and you're good to go.
Of course, if you don't want to go through all the hassle of going grocery shopping and breaking out your blender, there is a way to order the BLACKPINK Frappuccino at Starbucks in the U.S. It won't be a perfect dupe, but it will taste just the same and have the same Born Pink colors. Start off by ordering the Strawberry Crème Frappuccino, but ask for oat milk instead of the regular whole milk.
That's basically the same base drink, but if you want the dark chocolate sauce, ask for a mocha drizzle at the bottom of your cup. For the chocolate curls in the Strawberry Choco Cream Frappuccino, ask for some java chips added to the bottom as well. Then, instead of a pink whipped cream, have strawberry purée blended into a Vanilla Sweet Cream Cold Foam. You won't be able to get a heart-shaped chocolate at Starbucks for the adorable garnish, but you can add your own or ask for a cookie crumble topping.
Starbucks' BLACKPINK Frappuccino Dupe Review
I made my own BLACKPINK Frappuccino by going to the Starbucks near my home and ordering the off-the-menu dupe. It's not something you can order on the app, since you'll need to request the pink cold foam from your barista and be specific about the mocha drizzle if you want it at the bottom and not lined all over the cup. It felt like a pretty big ask, but my barista understood exactly what I was ordering and nailed it with the execution. I did end up getting my java chips mixed into the Frappuccino. I think that helped the drink have more of a blended chocolate and strawberry taste, rather than strawberry with a hint of chocolate.
The only downside to ordering from Starbucks is that the knockoff BLACKPINK Frappuccino was about $8 with all the customizations. That's a little pricey for a grande, but cheaper than buying a plane ticket to Korea. It's also about the same as the drink in Malaysia, which is about $9 to $10 with the exclusive BLACKPINK reusable cup. While I haven't tried the official BLACKPINK Strawberry Choco Cream Frappuccino, the one I made at Starbucks was similar to what TikToker @ceiran_foodzz described. She said it tasted like a strawberry Oreo, and it definitely has a strong chocolate and strawberry taste.
The java chips and cookie crumble do give it more of a Oreo vibe than a luxury chocolate covered strawberry you'd get on Valentine's Day. It was very sweet, but if you're a Frappuccino girly who loves sugary Starbucks drinks and anything BLACKPINK, you'll love this. It'll even "look so good yeah, look so sweet."