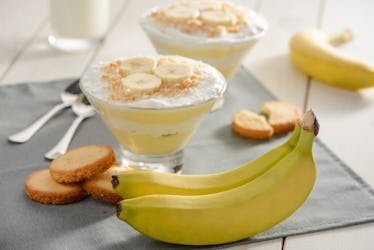 How To Make TikTok's Banana Pudding Brownie Bites For A Sweet Treat
Shutterstock
Wouldn't it be magical to combine banana pudding, blondie brownies, and cheesecake all in one bite? Unsurprisingly, the foodie side of TikTok has found the perfect formula. They're called Banana Pudding Brownie Bites, and this delicious combo is packed in a single square of sweetness. The recipe is super easy to whip up, with ingredients like yellow cake mix, instant banana pudding, and vanilla wafer cookies that add some crispy crunch. If that sounds heavenly, here's how to make the Banana Pudding Brownie Bites recipe from TikTok in just half an hour.
No matter what point in the day you snack on one of these squares, it's a guaranteed pick-me-up. Whether you need something sweet and portable to take with you on your commute to work, or just like to keep your kitchen stocked with a week's worth of fresh-baked desserts, you can whip these cheesecake-inspired bars up in just about 30 minutes. We grabbed @chefliyahh's recipe from TikTok for how to make the soft cake crust and creamy banana filling, and she promises the bite will be "10/10." Despite its flavor being the star of the show, this recipe actually doesn't call for any fresh bananas, so you won't have to worry about waiting for a bunch to ripen. That's where the banana pudding mix comes in, and there's no reason not to top the bars with fresh slices for a bite that really goes bananas.
For the vanilla wafer cookie crunch, you can arrange the golden rounds in perfect rows across the top or smash the cookies so they form a crumbly crust on top. You can also throw in a medley of shortbreads or sugar cookies for additional sweetness and texture. If the banana pudding cheesecake filling isn't quite satisfying your sweet tooth, you can always add a heaping drizzle of homemade icing or honey over the top of the cooked bars like @cooking__withfaith__ and @simply_bananas215 showed in their TikToks. And why not go a little nutty and top them with creamy peanut butter too? You can also get creative with how you serve them, either baking them in a round cake pan like a cheesecake, or experimenting with different shaped pans depending on the occasion. Here's how to make the Banana Pudding Brownie Bars from TikTok for a breakfast treat or a tea time snack.
How To Make TikTok's Banana Pudding Brownie Bites
You'll need:
8 oz or one block of cream cheese, softened
3 eggs
1 tbsp vanilla extract
1/4 cup sugar
1 box yellow cake mix
1 packet of Jell-o instant banana pudding cream
1/2 cup vegetable oil
Vanilla wafer cookies
Preheat the oven to 350 degrees Fahrenheit.
In a large bowl, beat the cream cheese, one egg, vanilla extract, and sugar until smooth.
In a separate mixing bowl, combine the cake mix, the remaining two eggs, and instant banana pudding until the ingredients form a thick batter.
Grease a medium-size brownie pan and pour in the cake batter, spreading it to the edges to line the bottom.
Next, pour in the cream cheese filling, using a spoon to swirl the mixture over the top.
Place a desired amount of vanilla wafers evenly across the top of the bars.
Bake in the oven for about 25 minutes. Let cool, cut out brownie squares, and enjoy.