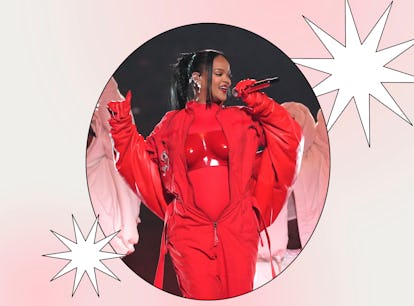 Rihanna's Super Bowl Halftime Show Inspired A Dance Trend On TikTok
This is for anyone with "Rude Boy" still on repeat.
Kevin Mazur/Getty Images Entertainment/Getty Images/Elite Daily
Sure, the Kansas City Chiefs took home the Lombardi trophy for the 2023 Super Bowl, but it was Rihanna who truly won the night with her halftime performance. She came, she sang, she conquered — and even threw in a little choreo here and there. While she may not have busted out a full routine, the few dance moves Rihanna did were iconic. In fact, there is a brand new Rihanna Super Bowl dance trend on TikTok featuring those moves that's all over the FYP.
No need to worry if you're not a dancer. This trend isn't necessarily about nailing each move in Rihanna's set. Instead, one particular dance move that Rihanna brought out during the song "Rude Boy" has captured TikTok's attention. Turning away from the camera, Rihanna and her marshmallow-like backup dancers twerked to the song with one hand moving in sync behind them. The dance move kind of looks like twerking while pretending your hand is a duck's tail. TikToker Niana Guerrero (@nianaguerrero) loved this move so much that she did it in a TikTok video that was captioned, "Me everywhere after watching Rihanna's Super Bowl performance." Other TikTokers have been inspired to do the same, and here's how you can follow the trend as well.
How To Do The Rihanna Super Bowl Dance Trend
The first step is to get the Rihanna twerk down. Rihanna's halftime show was choreographed by Parris Goebel, who shared the "Rude Boy" segment of the setlist to Instagram afterwards. Don't worry if you can't twerk, because your hand does most of the work to give the illusion that you're twerking. Once you've got that down, you're ready to film. Just record yourself twerking away from the camera. TikToker @notnathaniel_taplin does it while walking through the house and getting ready in the morning.
To specifically do what Guerrero does, set a water bottle or glass of water down near your camera. Enter the frame to grab your water and start to leave. As soon as Rihanna starts singing "come here, rude boy," that's when you start twerking. When Rihanna sings her next "come here, rude boy," cut to a shot of you skipping in slow motion, looking as happy as ever. Get the slow motion effect by recording in 0.3x speed.
Once you're done recording, add your POV text over your video. This can be something like, "Me after watching Rihanna's Super Bowl performance." Or, you can get more specific like Betches (@betches), who captioned their TikTok of the Rihanna Super Bowl trend, "POV: You're my neighbors watching me through the window clean my kitchen after Rihanna's performance."
You could even dress the part, like TikToker @xoxonicwebb does. All you need to do is throw on a puffy white jacket that's similar to Rihanna's backup dancers, or you can put on a monochromatic red look to channel your inner RiRi. As one TikToker commented on @bry.alysse's video of the dance trend, "Such a simple move but powerful." No truer words have been spoken.