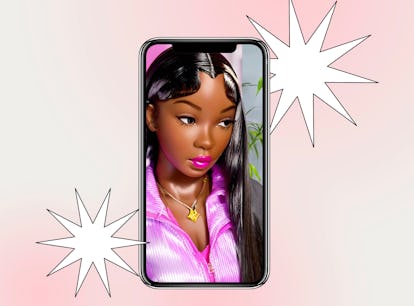 How To Get The TikTok Barbie Filter For Your Own Transformation
I was humbled by my AI experience.
Forget hot girl summer — it's a Barbie girl summer of donning bright pink shades, neon roller skates, and block heels. When you're not dressing in Barbiecore, you can visit a Malibu Barbie cafe, dance the night away to Dua Lipa, and even transform yourself into a doll using the Barbie AI filter that's going viral on TikTok. Of course, the Barbie filter itself isn't on TikTok, which can be confusing. You need a separate app in order to try the Barbie filter, and here's how to get your own transformation.
Whether you're chronically online or just a casual FYP scroller, you've likely seen the Barbie filter trend on TikTok, where people are turning themselves into dolls. Some have even been using the filter on their dogs for some hilarious and creepy AI magic. While TikTok does come with many filters you can use to make a video, you won't find this Barbie one on their list. It's actually from another app called Photoleap.
I really wanted to try the Barbie filter myself, so I went to the app store and downloaded Photoleap. Luckily, it's totally free. You can pay for a pro subscription, which will give you access to more filters, but the Barbie one is part of the free trial. Photoleap uses AI technology to transform the pictures on your phone, and can turn you into an anime character, give you fake tattoos, and photoshop you into new locations. Of course, the technology isn't perfect and I was humbled by my experience.
If you'd still like to try it out yourself, here's how to use the Barbie AI filter so you can be a part of the viral trend.
How To Use The Barbie AI Filter For TikTok
Once you've downloaded Photoleap, go into AI Selfies and give the app access to your camera roll. You can also snap a brand new selfie, but it works best on photos where your face can be clearly seen with good lighting. Once you select your pic or snap a new one, the app will automatically do its magic. Right now, "Girl Doll" is the first filter Photoleap will use to convert your pic, which is the one to use for a Barbie transformation. There is also "Guy Doll," which will turn you into just a Ken.
AI technology has its faults, so if you're not totally happy with your first pic, try again. Just tap on the "Girl Doll" option to shuffle and it'll make a brand new Barbie selfie. It took me a while to get a pic I liked after giving me pink teeth and mismatched eyes. At one point, the app said, "I'm too busy for new commissions, so I'm giving priority to Pro users," and stopped working. However, it did start working again after about 15 minutes.
Once you have a photo you deem worthy of sharing, save it from Photoleap. If you're not a Pro user, it'll save a video and photo with a watermark. If you don't mind the watermark, upload the video straight to TikTok with the song "Not Your Barbie Girl" by Ava Max or "Barbie Girl" by Aqua. Other TikTokers have been using a CapCut template from user @lucaspinheiroph for the swipe reveal. For that, go to TikTok and find another user who has used the template and click on "try this template." It'll take you to the CapCut app, which you should also download to your phone.
Using the template, select your Barbie pic and the OG selfie. CapCut will then edit together your video for you. When you're ready, export and it'll take you back to TikTok to upload. Just select the music and you're good to share. As much as I love scrolling through TikTok and seeing everyone living life in plastic, it took me a few dozen tries to get a Barbie pic I was OK with. Maybe this Barbie is better off just staying a human.