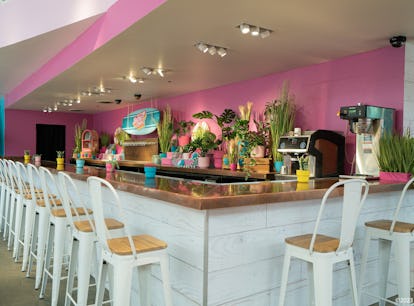 I Went To NYC's Malibu Barbie Cafe & There Are So Many Photo Opps
This Barbie got super nostalgic. (I am this Barbie.)
Mattel
Which way to the beach? If you're in New York City this summer, you may be shocked to learn that the answer is much closer than usual. Steps away from the water lining Manhattan's iconic Seaport neighborhood is the new Malibu Barbie Cafe, and it's a total dream(house). The pop-up restaurant — which runs from May 17 through Sept. 15 — gives the groovy beachside vibes of 1970s Malibu, with its bright color scheme, sunny California-themed menu, and a vast selection of photo opps. All you'll need to bring are your smartphone, your appetite, and your best Barbiecore fashion to really lean into the aesthetic.
After you snag a ticket — which includes your table reservation, choice of entree and side item, as well as access to explore the space — you'll be able to experience the world of Barbie in a way you never have before. In a space reminiscent of Saved by the Bell's The Max diner (IYKYK), you can eat sweet treats any Barbie would love based on the names alone, like Make a Difference Macarons, Pacific Paradise Rainbow Pancakes, and Anything is Possible Sundaes. The savory offerings also scream Malibu, including the Make Waves Avocado Toast, Golden Coast CALI-flower Bowl, and California Dreamin' Club Sandwich. Personally, I was a fan of the Barbie x Swoon Pink Lemonade being passed around — it was so refreshing, especially on the sunny spring day I visited the space ahead of opening day.
While you could choose to spend the duration of your 90-minute table reservation making your way through the menu with your besties as you sit alongside the bar, in front of the enlarged boom box, or underneath one of the hot pink umbrellas outside, the best way to use your time would be to explore the pop-up from top to bottom, because every nook and cranny is Instagrammable. Seriously, take a peek:
The Photo Booth
One of the first things you'll notice as you enter the Malibu Barbie Cafe is this familiar-looking photo booth on the opposite wall of the entrance. It's a near-perfect replica of a Malibu Barbie box, complete with a hot pink bodyboard, roller skates, and a Polaroid camera.
The Beach
Nestled right next to the box is a cute beach setup, where you can snap pics in a couple of beach chairs in front of a large sandcastle. If you go during the day, the outdoor lighting can really lend itself to the illusion that you're on a tropical vacation.
The Lifeguard Chair
Right outside, you can continue with the beachy theme in a hot pink lifeguard seat that'd make Margot Robbie's Barbie movie character so proud. Anyone else having flashbacks to playing with Baywatch Barbie, or am I just an older millennial?
The Surfboard
Upstairs — yes, there are *two* floors — you'll find a set of surfboards, one of which you can stand on and pose, pretending you're surfing through the tunnel of a wave. (Aaand we're back with the Baywatch flashbacks.)
The Bench Swing
The last big hot spot — though there are a lot of smaller ones throughout the space — is the Barbiecore bench, which you can find surrounded by an array of plants in front of different color windows. Your next grid photo awaits.
This Barbie thinks you need to get tickets for the Malibu Barbie Cafe ASAP; they start at $39 for adults, and vary depending on dates and times. For more information, visit bucketlisters.com.