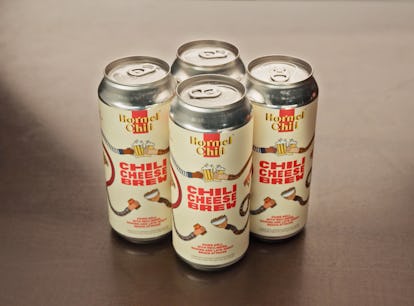 Where To Get Hormel Chili Cheese Beer & What It Tastes Like
Weirdest beer tasting ever.
Courtesy of Hormel
We may receive a portion of sales if you purchase a product through a link in this article.
It's always fun when you find a new go-to drink, but the latest sip up for consideration is nothing like Emily Cooper's kir royale or Emma D'Arcy's negroni sbagliato with prosecco. The first clue you're in for something ~interesting~ is that this beer comes from Hormel — yes, the chili company. With the Super Bowl in mind, the brand decided to combine two classic flavors in one unique sip. It's not uncommon to see dips and beers side by side, but this chili cheese dip-flavored beer takes the pairing to the next level. You won't find it in stores, so here's where to get Hormel's Chili Cheese Brew beer and what you can expect to taste.
Hormel is no stranger to offering up its classic chili cheese dip in unconventional ways. In 2022, the company sold a Chili Cheese Keg that served chili cheese dip on tap. On Jan. 24, the company went all out by introducing cans of beer called Chili Cheese Brew. The lager was made in partnership with Minneapolis-based brewery Modist Brewing Co., so you can rest easy knowing some beer experts were involved. The lager starts with a corn chip-flavored base (as any good chips and dip combo does) made with "Minnesota Pilsner barley malt and flaked corn," per the press release. Then, it's brewed with "a mix of savory spices and hints of cheddar cheese powder" for the chili cheese factor.
If it's anything like Hormel's chili, you can expect "a little bit of madness and a serious amount of chili-inspired spices," according to the brand.
Where To Get Hormel Chili Cheese Brew
If you're 21 or over, you can buy the four-packs of Chili Cheese Brew online at www.HormelChiliCheeseBrew.com. You'll want to grab them fast as they'll be available while supplies last. Each four-pack of 16-ounce cans (one pint of beer) costs $24 including shipping and handling.
Hormel Chili Cheese Brew Review
Elite Daily editor Collette Reitz got an early taste of the Chili Cheese Brew, and her first impressions might have you curious enough to try a can of your own. "It smells like a traditional lager, although after sniffing a few times (with the name in mind), I did get a hint of a chili scent," she says.
Reitz took a big first gulp, and she was surprised by how much the beer tasted like the one of the dip's main components. "I can't stress how much this tastes exactly like a bowl of chili," she shares. "The first sip was a lot. I wasn't expecting a true chili-cheese flavor profile, but the chili flavor was unmistakable."
Of course, this is a beer and not actually dip, and Reitz says the brew base is "a clean, crisp lager," but you can't avoid the chili flavor. "It's always there," Reitz notes.
Given the strong chili-cheese presence, she couldn't make it past a few swigs. "I'm not sure I could drink a whole can, or even a quarter of a can," says Reitz. "But it'll make you go back for at least a few sips to figure out what is going on."