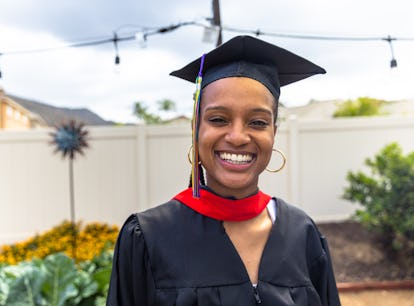 35 High School Graduation Instagram Captions That Perfectly Sum Up Your Feels
It's time to say goodbye to your high school memories.
adamkaz/E+/Getty Images
While life may have many different chapters, the transition from high school to the real world is a big one. Your high school graduation is a major milestone that is full of bittersweet memories. On one hand, you can't wait to move on to your next grand adventure, but at the same time, you're sad to say goodbye. It's a lot to put into words how you may be feeling right now, which is why having high school graduation Instagram captions is a must.
These high school graduation captions for Instagram perfectly sum up how you're feeling at the moment. In fact, there's at least one Instagram caption for high school graduation on this list that fits with every emotion you might be feeling as you prepare to close the door on the last four years. For instance, if you're feeling nostalgic and want to post some of your fave high school memories, there are high school graduation quotes with sentimental throwback vibes. Perhaps you're just really excited about the celebrations you have planned and can't wait to make the most of your summer before college. If that's the case, there are high school graduation Instagram captions for your excited snaps as well.
There are even high school graduation quotes, graduation song lyrics, and high school graduation puns to caption whatever pics you want to post on the 'Gram. So, while you're saying goodbye to your besties, prepping for your next step, and throwing your cap in the air, you'll have these high school graduation Instagram captions by your side to make the memories last forever.
"And as our lives change, come whatever, we will still be friends forever." — Vitamin C, "Graduation (Friends Forever)"
"I may have procrastinated a lot, but I snailed it. Happy graduation!"
"I do be looking cute in this cap and gown."
"I've been schooled."
"Oh, I don't wanna grow up." — Taylor Swift, "Never Grow Up"
"It's hard to say it, time to say it, goodbye, goodbye." — Nickelback, "Photograph"
"Ain't about what's waiting on the other side, it's the climb." — Miley Cyrus, "The Climb"
"I wish that I could have this moment for life." — Nicki Minaj, "Moment 4 Life"
"I came, I saw, I conquered." — Julius Caesar
"I have some good news: It's totally up to you. I also have some terrifying news: It's totally up to you." — Taylor Swift
"I'll calc-u later!"
"The things we are racing towards are better than what we leave behind."
"The limit does not exist." — Mean Girls
"The tassel really was worth the hassle."
"My future looks bright, so invest in some good sunglasses now."
"May my cap fly as high as my dreams."
"Oh, I'll tell you all about it when I see you again." — Wiz Khalifa featuring Charlie Puth, "See You Again"
"Goodbye to you. Goodbye to everything that I knew." — Michelle Branch, "Goodbye to You"
"Oops, my grad."
"Feeling grad and bougie."
"And so my next adventure begins."
"Closing time, every new beginning comes from some other beginning's end." — Semisonic, "Closing Time"
"I know I can be what I wanna be. If I work hard at it, I'll be where I wanna be." — Nas, "I Can"
"Today is where your book begins. The rest is still unwritten." — Natasha Bedingfield, "Unwritten"
"Grads all folks."
"And I'll make a wish, take a chance, make a change, and breakaway." — Kelly Clarkson, "Breakaway"
"I'm really grad I had friends like you."
"The best way to predict your future is to create it." — Abraham Lincoln
"I've got beauty and brains."
"All good things must come to an end, but this is just the beginning."
"This is what dreams are made of." — Hilary Duff, "What Dream Are Made Of"
"It's something unpredictable, but in the end, it's right. I hope you had the time of your life." — Green Day, "Good Riddance"
"The greatest adventure is what lies ahead." — J.R.R. Tolkien
"Mischief Managed." —Harry Potter and the Prisoner of Azkaban
"What she tackles, she conquers." — Gilmore Girls