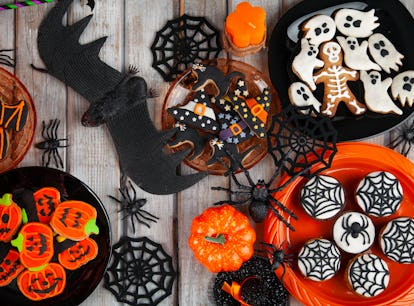 10 Halloween Cookie Recipes From TikTok That Scarily Simple To Make
eli_asenova/E+/Getty Images
Arguably the best part about spooky season is all the scary-cute treats that are on offer. There's the Halloween candy, of course, but there's also the pumpkin-shaped, candy-filled convections that fill your social media feed every October. If you're looking for some last-minute treats to make for your Halloween party or a Halloween movie night in with all your BFFs, TikTok has got you covered with recipes that look amazing but are also scarily easy to make. Need some inspiration? These 10 Halloween cookie recipes from TikTok are must-tries for your spooky season festivities.
While all the flawlessly decorated sugar cookies look amazing, there are also tons of easy Halloween cookie recipes by TikTokers that you can replicate at home. Some of them only take a few minutes to whip together, and they're still just as cute and creepy as some of the more challenging recipes. Honestly, all you really need are some candy eyeballs and black and orange sprinkles to give your cookies a Halloween makeover.
That said, if you do want to go all out on decorating, there are still some simple TikTok cookie recipes that are perfect for a last-minute spooky snack. Just grab some food coloring and a few extra ingredients like mini marshmallows and leftover Halloween candy, and you can turn your regular sugar cookies into creative concoctions. TikTokers even show you exactly how to decorate, so all you have to do is follow along with the video.
Preheat the oven, then scroll through these last-minute Halloween cookie recipes from TikTok for inspiration. It's sure to be love at first bite.