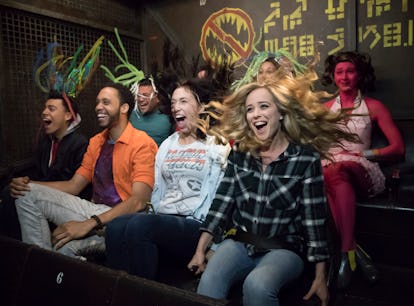 What Is TikTok's Guardians Of The Galaxy Disneyland Ride Trend?
It could get you kicked out of the park.
Courtesy of Disney
When you hear something is a TikTok trend, it usually means it's a harmless beauty hack, tasty recipe, or cute dance to a popular song. That's why you might assume TikTok's Guardians of the Galaxy ride trend is something fun to add to your to-do list next time you're at Disney's California Adventure Park. However, participating in this trend could get you a one-way ticket out of Disneyland. That's because in the Guardians of the Galaxy TikTok trend guests are removing their seatbelts on the drop ride.
Sure, you might be someone who goes to theme parks for the thrill rides. Perhaps Space Mountain and The Incredicoaster aren't doing it for you anymore after you've been on those attractions before. However, unlike Groot in Guardians of the Galaxy Vol. 2, you should listen to Star-Lord and "put your seatbelt on." Looking for an adrenaline rush is never an excuse to put yourself and others at risk.
This actually isn't the first time that guests have been caught removing their seatbelts on Guardians of the Galaxy – Mission: BREAKOUT! and its predecessor, The Twilight Zone Tower of Terror. To gain more airtime during the drops, guests have tried unbuckling their seatbelts or loosening them up before. In response, Disney has added extra safety precautions over the years. This is why "pull on the yellow strap" has become a popular Disney phrase among fans. Before your ride can even take off, each guest must show a cast member that their seatbelt is properly secured by pulling on a yellow tab.
So with everything Disney has done to make sure this doesn't happen, how has the Guardians of the Galaxy ride TikTok trend taken off yet again? It seems where there's a will, there's always a way — but it could cost you.
While it gained popularity on TikTok, you might not be able to find any actual videos of the Guardians of the Galaxy trend on the app. Videos are being taken down to discourage anyone from actually attempting to try it out for themselves, but the trend involves guests loosely securing their seatbelts in order to fly a little more as the ride drops. Anyone who has been on Guardians of the Galaxy - Mission: BREAKOUT! before knows that there are six different musical sequences you can get on the Disneyland attraction. Each version features a different variety of free-fall drops.
You shouldn't have to put yourself in danger, especially since you can be asked to leave Disneyland if you're caught, according to Disneyland officials. Considering TikTok will just remove your video as well, it doesn't even make sense to film yourself for the trend since no one will see it. You're better off just enjoying the ride as it was intended, grabbing a Not so Little Chicken Sandwich with a Pingo Doce soda from Pym Test Kitchen, and snapping a selfie with Spider-Man in Avengers Campus. You could even challenge yourself to get all six sequences of Guardians of the Galaxy - Mission: BREAKOUT! in one day. And if you can't make it to Disneyland, thankfully you can get your fix by streaming Guardians of the Galaxy on Disney+.
Don't have Disney+ yet? You can sign up here.