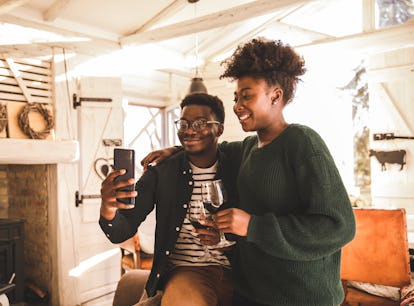 50 February Captions For Documenting Your Season Of Love On The 'Gram
Don't forget to sprinkle in some heart emojis.
fotostorm/E+/Getty Images
With all the heart-shaped candy and red decor everywhere, it's a total giveaway that February is here. While this may be the shortest month of the year, it's one that's full of love and exciting plans like the Super Bowl game day parties and Black History Month celebrations. It's Aquarius season, too, so you may be looking forward to lots of social plans and out-of-the-box activities that make you feel inspired for the second chapter of the year. All you have left to do is bookmark some February captions and quotes so they're ready to go for all your Insta-worthy fun and lovey-dovey moments.
It's the season of love, so it's the perfect time to listen to Taylor Swift, watch your fave rom-com, and follow your heart wherever it leads you. That could mean planning the ultimate Galentine's Day getaway with your BFFs where you enjoy waffles and exchange gifts just like Leslie Knope would. You and your partner may also have cute dinner plans for Valentine's Day on Feb. 14, so you'll want to have just a few February captions on hand for Valentine's Day couple selfies, matching 'fit pics, and snaps of your stunning roses.
The weather outside is also still as cold as ever, so you never know when an expected snow day will pop up – or an impromptu photo shoot of you and your besties making snow angels. Whether you're playing with your best pals or falling in love with your Valentine, grab these February captions to post on the 'Gram to make those special moments last longer.
"Dear January – thank u, next."
"The only thing we should scream into the world is love." — Jill Telford
"May you see love all around you this February."
"It's a love story, baby, just say, 'Yes.'" — Taylor Swift, "Love Story (Taylor's Version)"
"Can February march? No, but April may."
"Hello February, please be good to me."
"Seasons of love!" — Rent, "Seasons of Love"
"Even though February was the shortest month of the year, sometimes it seemed like the longest." — J.D. Robb
"Heart eyes emoji."
"Three words, eight letters. Say it and I'm yours." – Blair Waldorf, Gossip Girl
"Make your February dreams happen."
"Cupid got me good."
"If I had a flower for every time I thought of you ... I could walk through my garden forever." — Alfred Tennyson
"I like you and I love you." — Leslie Knope, Parks and Recreation
"Though February is short, it is filled with lots of love and sweet surprises." — Charmaine J Forde
"This February, do more of what you love."
"Consider this post my Valentine's Day card."
"February is the closest thing we have to magic."
"February is my love language."
"I can't wait for February 15th and discount chocolate."
"I hope you don't mind that I put down in words how wonderful life is while you're in the world." — Elton John, "Your Song"
"In February, we wear pink."
"Ready for all the football, ice skating, and chocolates this month."
"At last, my love has come along." — Etta James, "At Last"
"Not all of us can do great things. But we can do small things with great love." — Mother Teresa
"I like my candy heart-shaped."
"I wish I had done everything on Earth with you." —F. Scott Fitzgerald, The Great Gatsby
"In February, there is everything to hope for and nothing to regret." — Patience Strong
"I wasn't wrong when I swiped right."
"I didn't fall for you, you tripped me!" – Jenny Han, All The Boys I've Loved Before
"I fell in love the way you fall asleep: slowly, and then all at once." — John Green, The Fault In Our Stars
"You still give me butterflies."
"Roses are red. Violets are blue. We look cute in this pic and I adore you."
"Would I rather be feared or loved? Easy. Both. I want people to be afraid of how much they love me." – Michael Scott, The Office
"In February there is everything to hope for and nothing to regret."
"And it all started with Netflix and chill."
"What is done in love, is done well." — Vincent van Gogh
"February is the shortest month, so if you're having a miserable month, try to schedule it for February." – Lemony Snicket
"I love you even when I'm hangry."
"No, you hang up first."
"In all the world, there is no heart for me like yours. In all the world, there is no love for you like mine." — Maya Angelou
"On cloud nine with my Valentine."
"I accepted the rose."
"Why does February feel like one big Tuesday?"
"February days are a marketing gimmick; love happens every day."
"Happy first day of February, only 47 days to spring."
"Love is in the air."
"If we were on a sinking ship, I'd share my door with you."
"And suddenly, all the love songs were about you."
"XOXO."
This article was originally published on