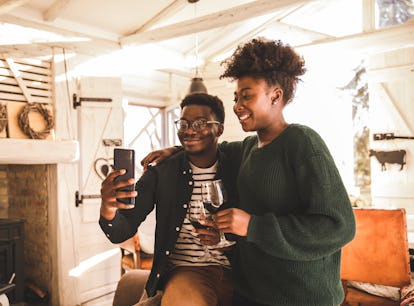 35 February Captions For Documenting Your Season Of Love On The 'Gram
Don't forget to sprinkle in some heart emojis.
fotostorm/E+/Getty Images
With all the heart-shaped candy and red decor everywhere, it's a total giveaway that February is here. While this may be the shortest month of the year, it's one that's full of love and exciting plans like the Super Bowl, the Olympics, Lunar New Year, and Black History Month. That makes having some February captions and quotes ready to go for all your Insta-worthy moments that much more important.
It's the season of love and Aquarius, so it's the perfect time to listen to Taylor Swift, watch your fave rom-com, and follow your heart wherever it leads you. That could mean planning the ultimate Galentine's Day getaway with your BFFs where you enjoy waffles and exchange gifts just like Leslie Knope would. You and your partner may also have cute date night plans for Valentine's Day on Feb. 14, so you'll want to have just a few February captions on hand for all your Valentine's Day couple selfies and matching OOTD snaps. The weather outside is also still as cold as ever, so you never know when an expected snow day will pop up. Having these 35 February quotes will make posting your winter day photo dump of catching snowflakes even easier.
Let's not forget that this year Feb. 1 also marks the start of the Lunar New Year and Black History Month, so the celebrations have truly begun. Whether you're just trying to stay warm with a movie night in with your besties or partying it up in your best dress, documenting your month on the 'Gram will make those special moments last longer.
"The only thing we should scream into the world is love." — Jill Telford
"May you see love all around you this February."
"February is a nice time to just stay in."
"It's a love story, baby, just say, 'Yes.'" — Taylor Swift, "Love Story (Taylor's Version)"
"Can February march? No, but April may."
"Hello February, please be good to me."
"Seasons of love!" — Rent, "Seasons of Love"
"And when you smile, the whole world stops and stares for a while." — Bruno Mars, "Just the Way You Are"
"You are my universe, and I just want to put you first." — Coldplay and BTS, "My Universe"
"Even though February was the shortest month of the year, sometimes it seemed like the longest." — J.D. Robb
"Make your February dreams happen."
"Cupid got me good."
"I like you and I love you." — Leslie Knope, Parks and Recreation
"Though February is short, it is filled with lots of love and sweet surprises." — Charmaine J Forde
"This February, do more of what you love."
"February is the closest thing we have to magic."
"February is my love language."
"I hope you don't mind that I put down in words how wonderful life is while you're in the world." — Elton John, "Your Song"
"You poetic, noble, land mermaid." — Leslie Knope, Parks and Recreation
"In February, we wear pink."
"February is the most wonderful month of the year."
"Ready for all the football, ice skating, and chocolates this month."
"At last, my love has come along." — Etta James, "At Last"
"How sweet it is to be loved by you." — Marvin Gaye, "How Sweet It Is (To Be Loved By You)"
"'Cause all of me loves all of you." — John Legend, "All of Me"
"Not all of us can do great things. But we can do small things with great love." — Mother Teresa
"Your wings already exist all you have to do is fly." — Reuben Watson
"When you love what you have, you have everything you need."
"Never be limited by other people's limited imaginations." — Mae C. Jemison
"Once something is a passion, the motivation is there." — Michael Schumacher
"I like my candy heart-shaped."
"Hello, gorgeous." — Funny Girl
"I can't wait for February 15th and discount chocolate."
"In February, there is everything to hope for and nothing to regret." — Patience Strong
"You're my, my, my, my lover." — Taylor Swift, "Lover"