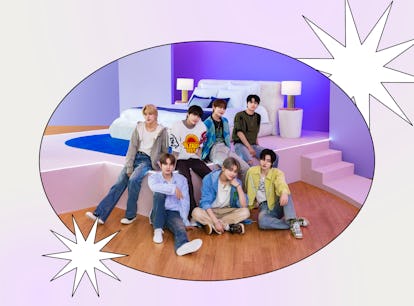 ENGENEs, Book A Stay In An Airbnb Hosted By ENHYPEN For Just $14
You also get to experience Seoul Fashion Week from the front row.
Chun Youngsang/Elite Daily
ENHYPEN is celebrating the May 22 release of their fourth mini album, Dark Blood, by adding Airbnb host to their resume. Just in time for Seoul Fashion Week this September, Heeseung, Jay, Jake, Sunghoon, Sunoo, Jungwon, and Ni-ki are hosting two lucky guests for an overnight stay in South Korea. Not only will you be welcomed to your ENHYPEN Airbnb by all seven members of the K-Pop group, but the stay itself is also pretty iconic.
Instead of calling an apartment or house your home for the night, the ENHYPEN Airbnb will be located in Seoul's Dongdaemun Design Plaza. For anyone who doesn't know, the DDP is a South Korean landmark and tourist destination for shopping, taking pics, and checking out different art exhibits. To be able to spend the night in the DDP is a once-in-a-lifetime opportunity, and a great way to kick off Seoul Fashion Week. Your stay even includes a bed at the end of your very own runway and passes to some of K-fashion's biggest shows. The best part of all is it will only cost you $14 — in honor of when construction began on the DDP in 2009.
Let's not forget, this is also a chance for ENGENE to say their fave group hosted them for the night in Korea. If you're part of the fandom, you'll definitely want to be the first to book this unique Airbnb.
How To Book The ENHYPEN Airbnb In Korea
Similar to other special Airbnb stays like the Ted Lasso pub and Dixie and Charli D'Amelio's crib in LA, this is not a contest. You'll want to be the first to book it when the window opens, so set your alarm for May 23 at 7 p.m. ET. It helps to log into your Airbnb account prior to the booking window to make sure everything goes as smoothly as possible.
While the stay is just $14, you will have to provide your own travel to and from South Korea in September when Seoul Fashion Week is happening. Fans of ENHYPEN, who just finished their first world tour last fall, probably already have Korea on their travel bucket list, so this is just a great excuse to finally make those wanderlust dreams come true. While abroad, you could visit different ENHYPEN tourist spots like the restaurant with the same name as Jungwon or go shopping for K-pop merch at the Myeongdong Underground Shopping Center.
What's Included In The ENHYPEN Airbnb Stay?
The most exciting perk of your Airbnb stay for ENGENEs is the personalized welcome video from ENHYPEN that you'll get when you arrive, but there are so many more amenities available. Your stay also comes with snacks, drinks, and books all selected by ENHYPEN, and two autographed Polaroids of ENHYPEN at the DDP.
Fashion is the theme just as much as ENHYPEN, so you and your friend will also receive exclusive passes that include front row seats to some of the best shows. The entire Airbnb takes over the top floor loft space of the DDP, and has been transformed with Seoul Fashion Week in mind. During your stay, you'll get a first look at some of the collections that will be revealed on the runway. Try on some of those designer clothes from up-and-coming K-fashion designers, and even take a few pieces home with you.
While wearing your new wardrobe, you'll want to snap some cute Polaroids of yourself — it'll be "Polaroid love." Luckily, you'll have your own runway as a backdrop. When you're not playing dress up or singing "FEVER" on the karaoke machine, you'll also get a tour of the DDP's undulating rooftop with your own guide. You can also use that opportunity to take in the gorgeous views from your new home away from home. For the lucky ENGENEs who get to experience this Airbnb stay, it sounds like they will definitely be in a "daze, daze, daze" of fun and fashion.