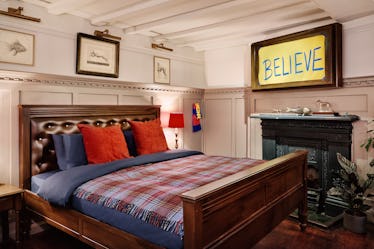 You Can Book A Stay In The Ted Lasso Pub On Airbnb For Only $13
You even get to try Ted's biscuits!
Henry Woide/Airbnb
For some, it feels like forever since Ted Lasso Season 2 dropped. The wait for new episodes has been as difficult to swallow as Ted Lasso trying to drink tea — aka "hot brown water." Luckily, Season 3 is on the way, and fans of the Apple TV+ series can immerse themselves in the show with a new Ted Lasso Airbnb. In some sitcoms, certain locations can be just as important as the characters. Friends had Central Perk, How I Met Your Mother had McGee's Pub, and Ted Lasso has the Crown & Anchor pub. Unlike those other filming locations, though, the Crown & Anchor is an actual place you can visit. Not only can you stop by during your trip to London, but some lucky fans will also get a chance to actually spend the night in the British pub.
Of course, the Crown & Anchor in Ted Lasso is actually The Prince's Head IRL. However, Airbnb is transforming the pub into a real-life Crown & Anchor for three nights only. During your stay in the Ted Lasso Airbnb, you'll get to chill where Ted often hangs out when he's not coaching AFC Richmond and enjoy some traditional pub fare. Your room will also be decked out in Ted Lasso decor, like the iconic "Believe" sign. Hopefully, Nate doesn't get ahold of this one. You'll also have a chance to play with the Wizard of Oz pinball machine or enjoy a round of darts — both of which Ted enjoys in the show. The best part of all is that your one-night stay only costs £11, or $13. If this sounds like the perfect vacay as a fan, here's how to book the Ted Lasso Airbnb.
How To Book The Ted Lasso Airbnb
While Season 3 is premiering March 15, these Ted Lasso Airbnb stays aren't until October 2023. That may seem like forever from now, but on the flip side, it gives you plenty of time to plan out the perfect trip to England. First, you have to book the Ted Lasso Airbnb, which might be as difficult as winning a football game. On March 21 at 1 p.m. ET, reservations will open for the Crown & Anchor Airbnb. In order to secure your spot, you'll need to be the first to book one of the three one-night stays.
It helps to set a timer or mark your calendar so you don't miss your moment. You will also want to log into your Airbnb account ahead of time to make it as seamless as possible. If you are one of the three winners, you and up to three friends will get to call the Ted Lasso Airbnb your home for just $13 on Oct. 23, 24, or 25. However, you will need to take care of travel to and from the Airbnb yourself. While it's not cheap to fly to London, you can make this experience one to remember by visiting other Ted Lasso filming locations in the UK while you're there. Check out Ted's apartment around the corner from the pub or stop by the stadium where AFC Richmond plays.
What's Included In The Ted Lasso Airbnb?
Your Ted Lasso home away from home will give you access to the Crown & Anchor pub, where you can play chess at Ted's favorite table, sing karaoke, and catch a Richmond game on the telly. You'll also be given some AFC Richmond gear to wear as you hang out in the pub owned by Mae in the series. Mae (Annette Badland) will virtually greet guests when they arrive to the Crown & Anchor.
Fans of the show will also have a fun time checking out all the Ted Lasso easter eggs on display. For instance, there will be a Ted Lasso desk with a little green army man and the pink boxes he uses to give Rebecca her biscuits on top. Speaking of which, you'll also get a chance to try those delicious biscuits with some English tea. Along with the yellow "Believe" sign on display, there's other artwork that gives a nod to the series, like signs that say "smells like potential" and "futbol is life."
"The Crown & Anchor is an essential fixture for AFC Richmond — it's where friends, colleagues and teammates come together to celebrate our triumphs or cope with the agony of relegation," Badland said in the press release. When you stay at the Ted Lasso Airbnb, you'll feel like a part of the AFC Richmond community, too.