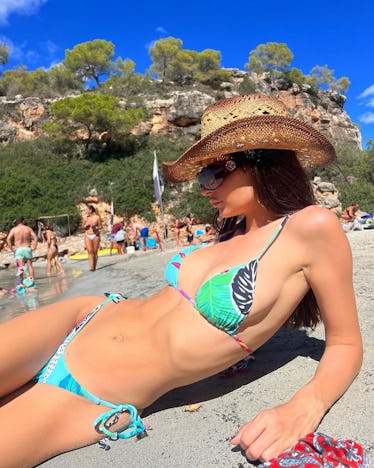 Emily Ratajkowski's Ab Workout From TikTok Is Super Quick
Doing this routine will take just seven minutes out of your day.
It seems the latest celebrity it couple on everyone's lips is Emily Ratajkowski and Pete Davidson. While the dating rumors between the two have yet to be confirmed, all eyes are are EmRata at the moment. When she's not hanging out with the SNL alum in NYC, Ratajkowski can be seen on the cover of magazines and modeling her swimwear line, Inamorata, on Insta. She's not just a model, but an influencer as well. If you're looking to get back into being active before the new year or you just want to switch up your existing workout routine, Emily Ratajkowski's ab workout from TikTok is a fun place to start — and surprisingly enough, it takes less than 10 minutes to run through.
Now, the model has a famously laid-back approach to fitness, previously telling Bravo in 2018, "I like to keep it really balanced to give my body energy and also be healthy." For the model, that means going on "long walks and hikes," per a 2015 New York Times interview, where she also revealed, "I don't have a trainer, and I don't really go to the gym."
While walks are great for cardio, if you're looking to have a strong core like EmRata, you'll want to try an ab workout at home, like this viral one from TikToker @kaylaiutzwig. This ab routine routine from TikTok is inspired by Emily Ratajkowski, and definitely will give you a good burn each day.