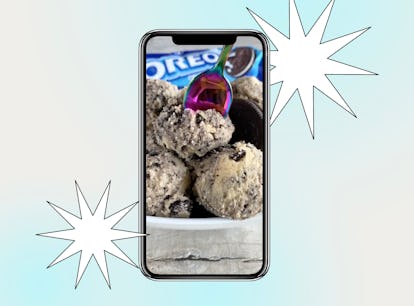 10 Cookie Dough Recipes From TikTok That're Safe To Eat
Need that Funfetti recipe in my rotation.
Raise your hand if you're guilty of eating cookie dough straight out of the tub. As delicious as it is, it can be dangerous eating things like raw eggs and flour. Luckily, there are edible cookie dough recipe TikToks that are super easy to follow and safe to enjoy. With the ingredients you already have in your kitchen, you can whip up a sweet treat to snack on whenever the cravings kick in.
There are vegan cookie dough recipes that use ingredients like chickpeas, and are a must-try for plant-based foodies. Sure, you might be skeptical of the healthy versions, but these edible cookie dough TikTok recipes will totally change your mind. Just watching a few of these TikTok videos will leave you wanting to get to the kitchen stat to try them yourself. Once you nail down a traditional chocolate chip recipe, you can explore other flavors like Funfetti or cookies and cream.
There are so many recipes that you could make different edible cookie jars to snack on for different occasions. For instance, make some cookie dough-wrapped creme eggs for your friend's Easter basket surprise. Or, make snack-sized portions to enjoy on a romantic outdoor picnic in the backyard with your partner. There are dough many possibilities, so get started with any of these ten edible cookie dough recipes now.
This article was originally published on