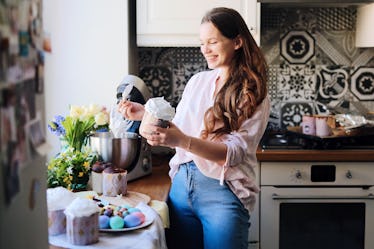 These TikTok-Approved Easter Food Ideas Will Make Your Feast So Insta-Worthy
You can never have too many Easter cakes, am I right?
Mariia Zotova/Moment/Getty Images
Easter is one of the sweetest holidays — literally. Between the Cadbury eggs and colorful marshmallow Peeps, there are a lot of delicious treats to enjoy on Easter Sunday. While you could always snack on the jelly beans and egg-shaped Reese's from your Easter basket, you can also get creative in the kitchen by trying out some Easter recipes from TikTok for your party.
If you're planning a traditional Easter dinner with your family, TikTok has plenty of Easter food ideas as well. TikTok really is the go-to place to find delicious and Insta-worthy food. So, whether you're craving something savory like a pizza or something sweet like a chocolate babka, there is a TikTok Easter recipe on the FYP that is truly for you. There's even a few traditional Easter cake recipes that work for any occasion.
Basically, the Easter food ideas are endless. However, if you don't want to go searching for a chocolate babka recipe or Easter cake recipe yourself, there's no need to worry. Save your hunting skills for the colorful eggs you've hidden around the house, and try these 12 Easter recipes from TikTok that have been assembled just for you instead.