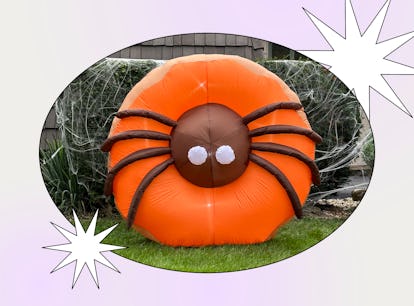 Dunkin' Just Dropped An Inflatable Spider Donut For Halloween
The creepy-good piece is a first for the coffee chain.
We may receive a portion of sales if you purchase a product through a link in this article.
Pumpkin spice has been back on the Dunkin' menu since August, but the company is just now unveiling this year's Halloween line-up. In addition to the return of the beloved Spider Donut on Oct. 11, Dunkin's Halloween 2023 merch is creeping its way onto the menu even sooner. The special drop features a brand new inflatable Spider Donut inspired by the fan-fave treat — and it's scary-cute.
While Dunkin' previously released an inflatable doughnut pool as part of their summer 2023 collection, this Spider Donut inflatable is a Halloween home decor first for the chain. In fact, the larger-than-life six-feet-tall doughnut is Dunkin's first Halloween decor ever, and it looks just like the speciality treat on the menu with a frosted doughnut body and Munchkin spider on top. If you have the space, it's perfect for your living room or front yard, especially since it lights up at night. Just like some of the new Halloween inflatables at Home Depot, Dunkin's Spider Donut will be sure to welcome any guests or trick-or-treaters over to your place all October long.
The limited-edition Dunkin' Spider Donut Inflatable will be available Oct. 3 on ShopDunkin.com for $100. That may be a bit more pricey than your go-to Dunkin' order, but with how popular Halloween inflatables have become on TikTok, the decor is likely to go fast. To ensure you have a giant Dunkin' donut to make your Halloween even sweeter, you'll want to order it ASAP.
Teasing the Halloween merch release, Dunkin' shared a photo of a deflated Spider Donut on Oct. 2 with the caption, "Something big is coming tomorrow, no like something actually really big." Some fans were quick to guess the lawn decor, saying, "I'd recognize a crumpled inflatable spider donut ANYWHERE," and they were correct. On launch day, Dunkin' shared a video of the Spider Donut coming to life on Insta with the caption, "This may not be the Halloween hero you need, but it's the Halloween hero you deserve in your yard."
Of course, ordering a regular Spider Donut at your local Dunkin' to snack on this spooky season is also something to add to your October cal. The Spider Donut is an orange frosted yeast donut with a chocolate glazed Munchkin on top that's made to look like an arachnid with icing legs and eyeballs. It's great for anyone who can't decide whether they want a regular donut or a Munchkin.
Dunkin' will also start adding black and orange sprinkles to their chocolate, vanilla, and strawberry frosted doughnuts on Oct. 11 as well. You could even pick up a Halloween doughnut with Dunkin's new Ice Spice Munchkins Drink, which has pumpkin Munchkins blended into Frozen Coffee for an elevated pumpkin spice latte. Either way, there's something sweet for you to trick-or-treat yourself to at Dunkin' this Halloween.