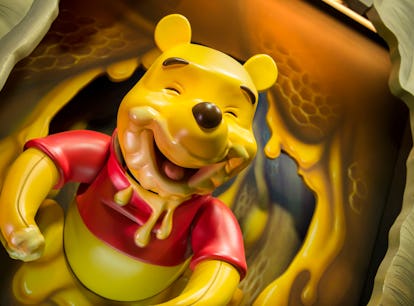 10 Winnie The Pooh Attractions For The 95th Anniversary You Can't Miss
You'll want more than just a smackerel of the fun.
It's been 95 years since our favorite hunny-loving bear stole our hearts, and Disney Parks around the world are celebrating. There are tons of rides, treats, and limited-edition souvenirs featuring Pooh and his favorite forest friends, and you'll want to check all of them out. No matter which Disney park you end up at, these nostalgia-inducing Winnie the Pooh attractions for the 95th anniversary will make you feel like you're exploring The Hundred Acre Wood.
There are countless experiences to celebrate this willy, nilly, silly ol' bear. In a nod to Pooh's unwavering love of "hunny," you can hitch a ride on an oversized beehive and explore the forest in search of... that's right, more honey. One ride even lets you enter an old storybook and tag along with Pooh, Piglet, Tigger, and the rest of the gang on their wholesome adventures. When you finally hop off the rides, you can head to 95th anniversary Winnie the Pooh statues and topiary for a photo op.
When you've hit up all the attractions, be sure to do a little shopping, too. Disney Parks around the world are serving up some limited-edition treats, including Pooh and Tigger mini donut "lollipops" and Pooh-shaped cookies, as well as a Tigger tail marshmallow treat that'll draw plenty of likes on the 'Gram. Be sure to pop into the store before you go for some special Winnie the Pooh gear, or buy a Pooh backpack online.
There's so much to do, see, and explore to celebrate the 95th anniversary of Winnie the Pooh, and you won't want to miss a second of it. Check out these attractions and plan your visit ASAP.
We only include products that have been independently selected by Elite Daily's editorial team. However, we may receive a portion of sales if you purchase a product through a link in this article.