In A Galaxy Far, Far Away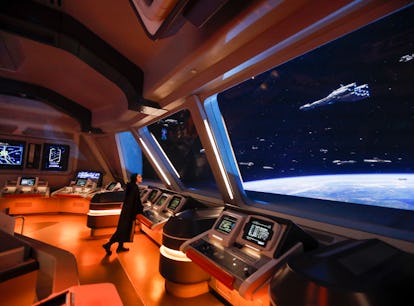 I Visited Disney's $2.5K/Night Star Wars Hotel Before It Closed
Here's what *should* be done with the abandoned Galactic Starcruiser.
Less than two years after its opening, Disney World's Star Wars: Galactic Starcruiser made its final (sold-out) voyage on Saturday, Sept. 30. My boyfriend and I — London-based Star Wars fans who'd flown to Florida to stay aboard the Halcyon IRL for May The Fourth, aka Star Wars Day, just months earlier — were surprised by the closing... but also not really surprised. The Star Wars-inspired hotel had been lauded for its immersive theming as much as it was criticized for its astronomical price tag ($2,500/night, with a two-night minimum). Naturally, post-announcement, I texted the group chat and we started speculating what's next for the space.
After all, the $350 million feat of Imagineering was an ~experience~. During the two-night stay, guests entered the world of Star Wars as their own characters and participated in a plot that saw their galactic vacation commandeered by The First Order.
I had been lucky enough to experience the Starcruiser at its very best: filled to the brim with superfans in full garb, roaming the deck and communicating on Datapads on the way to their cabins. Each voyage (because this is a "cruise") on the Halcyon (the name of the "ship") required a cast of more than 15 key character actors and countless other staff, featured two three-course seated meals (one of which was a dinner show), and regular full-cast performances (including pyrotechnics and lightsabers) in the atrium.
While Disney hasn't made any official announcements, giving the 100-room boutique hotel and LARPing (live-action role-playing) experience a new lease on life could prove reasonably straightforward. The Star Wars hotel is, after all, on property (located just outside Disney's Hollywood Studios and Star Wars: Galaxy's Edge), themed to one of the world's highest-grossing movie franchises, and immaculately executed. With a few tweaks and some additional consideration for people's pockets, I believe the Starcruiser could sail once more — and so it should. For that reason, here are four things I hope Disney does with the Star Wars: Galactic Starcruiser.
Make Star Wars: Galactic Starcruiser A (Regular) Hotel
This one's a no-brainer for me: I'd love to see Disney drop the immersive plot and keep the Starcruiser functioning as a standard, themed hotel.
My boyfriend and I — casual Star Wars fans, extremely awkward Brits — threw ourselves into the LARPing experience with gusto, but not as much knowledge as dedicated fanatics. So we fumbled when fellow travelers asked us which planet we were from (apparently Earth isn't an acceptable answer in the expanded universe) — we did make costumes, though. We also joined The First Order and became immensely competitive when the messages on our Datapads, one of the most intricately thought-out elements within the Play Disney Parks app, came from different characters.
We enjoyed the experience, but ultimately felt less successful than other guests if we missed a certain performance because we opted for a nap, or forgot to swing by the engineering room briefing because we couldn't work out the rules of Sabacc.
Removing the live-action aspect of the Starcruiser would allow guests to create their own narrative without FOMO. For some, that narrative is chasing down tips for Lt. Croy using the awesome programming on the Datapad, but for others it's simply having a hyper-themed space to enjoy downtime outside of the park.
Allow Interactive Star Wars Experiences To Be Bookable (And Repeatable)
The Lightsaber and Bridge Trainings were by far our favorite parts of staying on board the Galactic Starcruiser. We loved them so much that we wanted to do them again and again. Solving engine problems and collecting loose cargo made us feel like we had truly jumped to lightspeed and found ourselves docked in a different galaxy. By the time I'd ducked and weaved and jumped around with my lightsaber, you'd have had a hard time convincing me I wasn't a distant relative of the Skywalkers.
If the Starcruiser reopened as a regular hotel, having the option to repeat these activities during your stay — or book them for the first time as a guest staying in any Walt Disney World resort — would be high on my list of vacation must-dos. I'm sure many guests would happily make the journey for an hour or two's break from the hubbub of nearby Batuu, particularly if time or funds restrict them from going all-in on a night on board the ship.
Open Themed Bars And Restaurants To All Disney Guests
We ate like galactic royalty during our two-night stint on the Halcyon, and we drank like them, too. Heck, even the quick service lunch on the Starcruiser was spectacular (though I'm afraid I still can't recommend Blue Milk).
Given half the chance, I would certainly hop over from Hollywood Studios for a Cloud Of Bespin cocktail in the Sublight Lounge, especially if I was unable to make a reservation for its popular in-park counterpart, Oga's Cantina. Galactic superstar Gaya's dinner show would be an exceptional way to spend an evening before heading back to a more familiar planet, and the Taste Around The Galaxy experience is perfect for Disney foodies wanting some atmosphere with their meal. It was, without exaggeration, some of the best food I've ever eaten on property, and could offer fans of the franchise a truly special way to end their Walt Disney World vacation.
Throw Special Events For Star Wars Day
What made our stay on the Halcyon so unique was seeing how the superfans immersed themselves in the story. Star Wars people know their sh*t. The costumes we saw on board were a reason to pay a visit in themselves. The space allowed cosplayers and LARPers to insert themselves into the canon with ease, and that's something that shouldn't be restricted to two-night stays and big budgets.
With May The Fourth and countless other anniversaries and celebrations in the Star Wars calendar, why not throw special parties and one-off voyages that keep the immersive, live-action role-play experience alive? Disney has proven success with ticketed events like Mickey's Not So Scary Halloween Party, H2O Glow at Typhoon Lagoon, Villains After Hours, and many more, so it makes sense for the House of Mouse to bring that party-planning expertise to a galaxy far, far away.
TL;DR: Disney's Star Wars Hotel Deserves A New Life
Let me wrap this up by saying I'm a dreamer, not an economist — working out what's in the future for the Galactic Starcruiser is (thankfully) not in my hands. But, as a theme park fanatic and Star Wars fan, I feel pretty confident that these ideas would work. Maybe it's because I played too much RollerCoaster Tycoon as a kid, or maybe (just maybe), it's because Disney's most ambitious project to date is too good to let go without a fight.