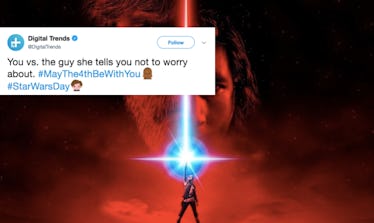 It's Star Wars Day & These "May The Fourth Be With You" Memes Are Taking Over
LUCASFILM
It's May 4, which means it's the perfect time to create a Yoda-approved meme to commemorate Stars Wars Day. Luckily, the internet has been flooded with "May the Fourth Be With You" Star Wars memes in honor of the holiday. In case you're wondering, the "May the Fourth Be With You" catchphrase first came into being in 1979 from a congratulatory message for recently-elected British Prime Minister Margaret Thatcher, according to the Star Wars website. Since then, it's become an unofficial way for fans around the world to pay tribute to the popular franchise's "May the force be with you" mantra.
Whether you're a diehard Stars Wars fan who's religiously watched and re-watched every film, or a self-professed bandwagoner whose limited Star Wars knowledge stems from the The Force Awakens mania, there's a "May the Fourth Be With You" Star Wars meme on Twitter for you. The memes perfectly blend the series' most memorable quotes with hilarious pop culture references, "I am your father" jokes, and pets who make the dark side look seriously cute.
I know it's hard to believe for the most dedicated members of the Star Wars fandom, but there are quite a few people out there who haven't watched all of the Star Wars movies. After all, it's a huge time commitment. With nine movies and counting, we're talking about some serious "Netflix and chill" time. Plus there are at least seven more Star Wars movies in the works, Business Insider reports. Everyone who hasn't seen the series yet will have to catch themselves up to understand these memes.
It looks like it's not the best day to catch a flight to Alderaan. This cool display at Heathrow Airport also teases the release date of Solo: A Star Wars Story on May 25, which follows a young Han Solo as he meets Chewbacca for the first time and goes up against gambler Lando Calrissian.
It's decision time for Anakin "Darth Vader" Skywalker, but he just can't say no. Who needs the light side when the dark side look so good?
When your feed is full of Chewbacca memes and photoshopped lightsabers, you know it's May 4. The Star Wars fandom is out in full force.
Speaking of Chewbacca, who knew he had such an envy-inducing mane? I'll be taking some pointers over here.
I know they're corny, but I'm so here for these dad "I am your father" jokes.
Calling all clone troopers to report to Order 66.
Has there every been a better application of Yoda's most memorable quote? The force is strong with this one. Extra kudos for the Jedi Division fireman uniform.
One of the best parts of all the "May the Fourth" memes is all the adorable pets decked out in Star Wars gear. We can't help rooting for both the dark and light sides watching this epic battle between two cats.
Those baby blues, though. It's Mr. Steal Your Girl, Star Wars-style.
Now, this is one sports bracket we can definitely get behind. What's your pick for the best Star Wars film?
One of the biggest plot holes in the series of memes has to be the stormtroopers' weird inability to aim correctly at anything, even the slowest-moving targets. Seriously, why, though?
With the recent resurgence of Star Wars mania with The Force Awakens in 2015, and the highly anticipated Star Wars: Episode IX in 2019, it looks like fans are continuing to come out in force (get it?) every year with new "May the Fourth be with you" material to keep to the meme machines going strong.
We'll raise our lightsabers to that.