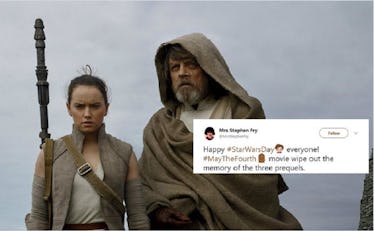 20 Tweets About "May The Fourth Be With You" That Will Make 'Star Wars' Fans Geek Out
Walt Disney Studios
Happy May the Fourth, Star Wars fans! Whether you're an OG fan raised on the franchise's original epic trilogy or one of those unique people who don't think the prequels are that bad, today is a great time to be a Star Wars geek in all ways and forms. Based on the movies' common phrase "May the force be with you," "May the Fourth Be With You" is a chance to celebrate everything that Star Wars means to fans. The internet was made for things like Star Wars Day, so of course your Twitter feed is inevitably flooded with "May the Fourth Be With You" greetings right now. In true nerdy fashion, we've gathered 20 tweets about "May the Fourth Be With You" that will delight your inner fangirl on this glorious day.
Million-dollar franchises might be pretty common today, but when Star Wars first debuted in the 1970s, it definitely kicked off the start of what we now know as a recipe for success in franchises like Marvel and Harry Potter. Because of its longevity, the Star Wars fandom includes people of all ages, which only makes for even more entertaining and diverse tweets than usual on May 4. Whether it's referencing Star Trek in a Star Wars tweet or sharing memories of watching the films in theaters (Cory Booker's a fan!), so many of these special tweets go beyond just celebrating the day's punny nature.
Other fans have used the day to honor their favorite characters, both old and new. Given her tragic death in 2016, Carrie Fisher and her onscreen persona Princess Leia are particularly favored, which I totally get. Who else wanted to be a warrior princess in space because of Leia?
Similar praise appeared for the newest films' Rey, who's a fierce successor to Leia when it comes to Star Wars' heroines. Also, can those people who create gorgeous fan art teach me how to draw?
Businesses are using the day's festivities to their advantage, too. A traveler at London's Heathrow Airport shared a photo of a special Star Wars-themed departure board, showing planets as destinations and including droids' names as flight numbers. Never underestimate the Brits' sense of humor!
The Twitter account for The Late Show with Stephen Colbert also jumped in on the fun, teasing followers about having an exclusive trailer for the upcoming Solo: A Star Wars Story movie. The tweet's video was actually a faux sitcom opening set to a riff of the Happy Days theme song, referencing Happy Days star and Solo director Ron Howard. See, Star Wars Day is for people of all ages!
Being on a Disney-owned network, Good Morning America couldn't resist some Star Wars fun either. While there is a place called Trooper in Pennsylvania, the other themed locations seem to be fictional, but points for creativity, GMA!
Of course, it wouldn't be Star Wars Day without some recognition from one of the movies' most beloved cast members. Mark Hamill, aka Luke Skywalker, dropped a tweet that totally satisfies any Star Wars fan's inner child.
Entertainment Weekly reports that, in honor of May 4, major movie theater chains have now begun ticket sales for Solo, which officially opens on May 25. Today can't get any better, right?
With Solo coming out at the end of the month, it feels fitting that we can celebrate what's to come with our "May the Fourth Be With You" tweets. I'm definitely in the mood to binge on some of the Star Wars movies now, so it looks like I'm taking a trip to a galaxy far, far away this weekend.
Solo: A Star Wars Story is in theaters on Friday, May 25.