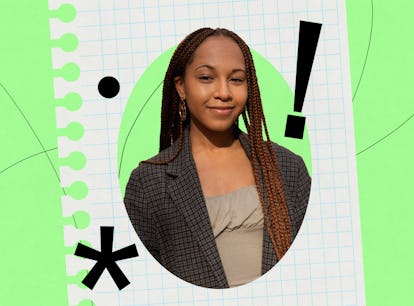 This College Senior Photographed Simone Biles & Sha'Carri Richardson
NYU student Denise Stephanie Hewitt is already booking the Met Gala and magazine covers.
As Denise Stephanie Hewitt sees it, she's achieving her wildest dreams in photography while flying under the radar. "I shot a major magazine cover at 17, and nobody noticed," she tells Elite Daily. Photographing Emily Blunt for the cover of Marie Claire's March 2020 issue is no small feat, but the now 21-year-old Brooklyn native and NYU college senior isn't bothered about the relative anonymity. "It's a running joke with me and my friends. It's funny to me," Hewitt says.
Recently recognized in Essence magazine's Creator's Class, a collection of young and gifted Black creatives highlighted by the magazine, Hewitt reps an impressive portfolio for a photographer of any age, including working for big names and brands like the WNBA, Barney's, and Tia Adeola. She's also been a Vogue contributor since 2020, shooting celebs like Simone Biles in her iconic 88-pound dress at the 2021 Met Gala.
This is all while balancing being an RA and campus ambassador at NYU giving tours on campus, as well as keeping up with hobbies like editorial writing, styling, and creative directing on the side. Below, the self-proclaimed perfectionist details her career journey, how Google Calendar has become her best friend, and how she keeps up with her double life.
Elite Daily: Your Instagram bio says "Gen Z's Hannah Montana." What does that mean to you?
Denise Hewitt: I live a Hannah Montana double life — I really do. In college, I wake up, I have class, then I answer an email from Vogue and head to Harlem to shoot for Ralph Lauren. After that, I have to go back down to campus at NYU.
ED: How did your interest in photography begin?
DH: I've always been a creative person. As a child, I was making dollhouses out of cardboard boxes and doing room redecorations. I was also playing around with the Polaroid Instax Mini 8 camera at age 12.
My dad was the family camera guy, and continues to be. He would go down to Carnival in Trinidad every year and record the top songs of the season, print them on CDs, take videos of all the competitions and performances, and sell those. He inspired a lot of my documenting, saving, and archiving because I was always around visual mediums. Later on, I got to really play around with what that means for myself.
ED: How did you get the opportunity to shoot a magazine cover at such a young age?
DH: I started my photography career at 15. My high school was in Red Hook, Brooklyn, and we visited this nearby photo studio, Red Hook Labs, that brings in different photographers for their summer program. I reached out asking to join their summer program and I got in after an interview.
My mentors really saw a lot of potential in me because of the work that I was producing, my drive, and my motivation to improve and be proactive. They ended up pitching me out for a few different opportunities, and in my senior year of high school, I got the Marie Claire cover.
ED: How do you deal with high-pressure situations like shooting an A-list actress?
DH: Honestly, it's just a lot of excitement when I receive celeb opportunity emails. When I got the email for the Met Gala to shoot Simone Biles, I was sitting at a lunch table for a student orientation and had to keep my excitement in.
Any of my nerves really just come from wanting to be able to establish that personal relationship with the person I'm shooting. Obviously, I know a lot about them, but they know nothing about me, so it's balancing those conversations.
When I'm there, it's just about being really present in the moment and processing all the shock and awe later. I've learned to really do that over time. I think it's really grounding to just take in everything at the time and bask in the fact that it's even happening. It's just doing the job and being present in the moment.
ED: Any specific moments with celebs that stand out?
DH: I don't really get starstruck, just because when I've met celebrities like Simone Biles or Sha'Carri Richardson, they were so down to earth, warm, and welcoming.
I had a conversation with Sha'Carri about starting young in your career, staying grounded, and how to keep pushing and stay motivated. It's heartwarming to know that that's a conversation I can have with someone that's so famous. So, I just go in knowing that these are people, too.
ED: Walk me through your decision to go to college when you already had so much experience in photography. Was it a decision you thought a lot about or an obvious choice for you?
DH: I thought about it a lot because a lot of people see my resume and are like, "Girl, why? What are you doing?" But education is super important to me. I also know that I have so many varied interests outside of just photography. I've also really flourished in leadership and management positions. For me, it's about expanding my horizons for what I can and would want to do in the future. Getting that bachelor's degree is a box to check for me, especially for the positions that will be my 9-5 later on.
ED: How do you juggle all of your school commitments with your photography pursuits?
DH: It's a lot of sacrifices and playing Tetris with my Google Calendar. If it's not in my Google Calendar, it's not happening and I'm not showing up.
Just like you've got to make this career happen and make your grades pop, you also have to make room for everything else that fulfills you, too.
In the same way that I schedule that shoot or meetings right after class, I also have to build in the time for being like, "I'm going to see my family, I'm going to see my friends, I'm going to have my little self-care night with some ice cream."
ED: Have you ever had to multitask?
DH: I recall multiple times freshman year where I could really get away with it — I'd be in some class on Zoom, on my phone with an earpiece listening to class lectures while also assisting for a shoot and doing behind-the-scenes work.
During a styling gig for Vogue Mexico, I vividly remember I was assisting [fashion stylist] Roberto Johnson, and I was on Zoom on my phone while I was steaming some clothes and organizing the shoes. These opportunities are very, very critical, though. The smallest interactions, the smallest gigs, can get you in touch with the craziest people.
ED: You're also an RA. What kind of time commitment is that, and why did you choose it?
DH: It's a 20-hour max commitment per week. Obviously, everyone loves free housing and free food, and yes, it takes something off the bill. But I was also very involved in leadership and community building in my high school and middle school. I have a long history of being in leadership positions, and I want to bring people together. Even in my friend groups, I'm the old soul who's always giving advice. I give very good objective advice about different situations, which I think is what also makes me a good RA. I understand people, relationship building, and how people's experiences can impact how they react to a certain moment.
ED Do your residents know about all your amazing accomplishments? If so, what do they think?
DH: They definitely do. The only reason is that move-in weekend coincided with Afropunk festival, and I was commissioned by Vogue to go and shoot that. I had to figure out my schedule to work my shifts for move-in, but then also go work all day. I ran from the Greenpoint-Williamsburg area to come back to my residence hall to do our first-ever RA meeting and community floor meeting to meet all my residents for the first time. I was drenched in sweat, holding bags, everything. I just popped down and I was like, "Hey, y'all let's do this thing." I was like, "If I seem a little all over the place, it's because of this." I slayed the meeting.
ED: What interested you about being a campus tour guide? How does this fit into your already busy schedule?
DH: I hate the college process. I really do. There's so much anxiety and stress around it, so if I can give some guidance and perspective on how to make that less anxiety-inducing, I'm going to do that.
Shifts come out weekly, you just submit your availability and then they just schedule you in. As long as I know in advance, if I'm doing something, I can schedule that out. But sometimes these tour guide gigs come in the day before and I've got to reshift and refocus to make it work.
ED: What's the biggest piece of advice you have for someone who wants to begin pursuing their dreams while still in school?
DH: Keep your priorities straight. Priorities look very, very different to different people, so that means doing that internal work. Think about what fulfills you, but also about the things that you need to be doing in order to make things happen.
I was going to visit my family in Florida, but I had to change my flight because one of my peers invited me to a Tribeca Film Festival screening for Alicia Keys' film. Because I moved my schedule around to go to that event, I got my first-ever creative directing role on my portfolio after meeting music artist Davionne there. I creative directed, cast the photographer, and did the styling ideation for her debut album cover. That's because I followed through, I went to this event, showed support, and I just continued to put myself out there for that.
ED: What's next for you?
DH: I'm continuing to put the work in, putting myself out there, and searching for opportunities to create and connect with people. I'm just taking in all that I have been able to do for myself. One thing I think people struggle with is celebrating yourself, acknowledging that you've done certain things, and cheering yourself on. I'm ready for whatever's next. I'll continue to just enjoy the ride.
This interview has been edited and condensed for clarity.