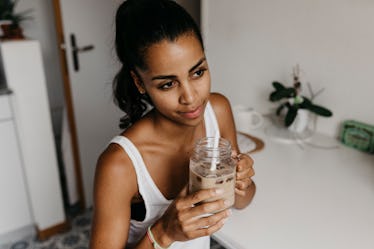 This Cold Brew Smoothie From TikTok Looks Like A Literal Milkshake
You're basically a barista now.
Westend61/Westend61/Getty Images
Cold brew is iced coffee's cooler and tastier cousin. It's usually prepared by steeping coffee grounds in a jar of water, then placing the jar in a refrigerator overnight. While you sleep, the coffee grounds turn the water into a flavorful and smooth sip, but even though the process is pretty simple, there are so many ways to drink it. These cold brew recipes on TikTok will show you how it's done — and what to do after the cold brew has been prepared.
As a coffee lover, your first instinct may be to add your oat milk or caramel syrup to your cup, then get on with your day. That's not wrong, by any means — but these cold brew recipes on TikTok are here to push you outside of your coffee comfort zone. They play around with ingredients or barista-level techniques you haven't tried before, and answer questions like, "What comes first: the cold brew or the oat milk?"
A brew-and-go morning is totally understandable, but when you have a few minutes to get more creative, you can start your journey with these cold brew recipes on TikTok that are tasty masterpieces.
This article was originally published on