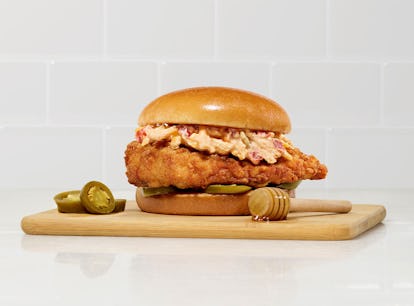 I Tried Chick-fil-A's Pimento Chicken Sandwich With Jalapeños
The viral new menu item is sweet, spicy, and very cheesy.
Chick-fil-A is reigniting the fried chicken sandwich wars with its newest offering. The chain restaurant usually sticks with slight variations on its OG recipe (it last debuted the Spicy Chicken Sandwich in 2010), but Chick-fil-A's Honey Pepper Pimento Chicken Sandwich is unlike anything else from its fast food competitors — in a good way. When I saw its uniquely cheesy, sweet, and spicy recipe getting a lot of hype on my FYP due to the gooey pimento spread, I knew I had to try the Southern-inspired Chick-fil-A sandwich to see whether it'd be my new go-to order.
For its "first-ever spin" on the original sandwich, Chick-fil-A apparently tried 30 different recipes before landing on this one, according to the brand. The Honey Pepper Pimento Chicken Sandwich, which starts at $6.75 depending on your location, features the company's classic breaded chicken filet and fluffy buns that are spruced up with with a homemade pimento cheese sauce, mild pickled jalapeños, and drizzles of honey. As a fan of Chick-fil-A's Spicy Chicken Sandwich, I was most curious to see how these spicy and tangy flavors would compare to the spicy sauce and pickles in that recipe. TBH, I also had pretty high expectations when I ordered the new offering to my house because of the buzz online.
When I opened up my Chick-fil-A order from DoorDash, I was pleased to see that the sandwich looked almost identical to the one posted across the brand's social media channels. The generously sized chicken filet looked juicy, and the cheesy pimento mixture on top actually looked really appetizing. Taking a bite, the first flavors to hit my taste buds were from the pimento cheese, which is made with smoky green chilis and sweet red pimentos combined with cheddar cheese. Taking a few more bites, I was surprised that the flavor of honey also came through pretty strongly from the chicken, followed by a pretty mild heat from the pickled jalapeños that were on the other side of the filet. Paired with the breaded chicken and the buttery, fluffy bun, the pimento cheese made the whole sandwich taste pretty decadent. It was almost too rich for me, but I liked that the pickled jalapeños came through and added a subtle, yet very welcome, hint of tanginess that you usually get from the pickles in Chick-fil-A's sandwiches.
My Chick-fil-A Honey Pepper Pimento Chicken Sandwich Review In One Word: Flavorful
Overall, I felt like Chick-fil-A's Honey Pepper Pimento Chicken Sandwich tasted delicious, but it was hard to eat more than half of it in one sitting without feeling like I needed a nap. They didn't scrimp on the rich pimento cheese mixture, and I thought that traditional Southern flavor was the dominant one in the sandwich. However, if you like the buttery, rich flavor of pimento spread paired with honey fried chicken, this might be your new favorite order at Chick-fil-A — and it felt like a good value, even for the $10.39 I paid to order it from DoorDash in Chicago. After picking at it during the day, I ended up skipping lunch because I was so full — and sending a group text to my friends urging them to try it.