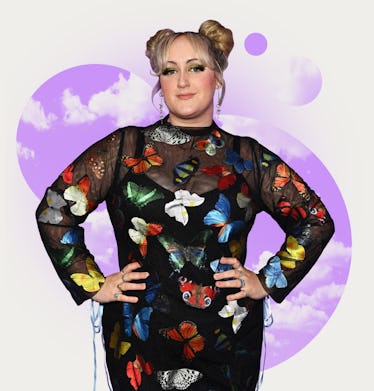 Brittany Broski Says Her Screen Time Each Day Is "Concerning"
But the TikTok star has discovered a new distraction that gets her off her phone.
Elite Daily; Bryan Bedder/Getty Images for Samsung
We may receive a portion of sales if you purchase a product through a link in this article.
Once known as "Kombucha Girl" for her viral taste test TikTok, Brittany Broski has since surpassed her meme status to become a certified social media star who posts everything from makeup collabs to vlogs. Along the way to reaching more than 7 million TikTok followers, the 25-year-old creator has had some true pinch-me moments, from starring in a Kim Petras music video to meeting Harry Styles after his team invited her to capture content at one of his shows in NYC.
When asked about her time with Styles, Broski admits that she can't remember a thing. "I bet it would've been fantastic," she tells Elite Daily, "if I didn't trauma-block it out." Let's face it, having Styles thank you for coming to his show IRL would make most fans black out — and it's times like this where Broski feels like one of your besties
One of the things that makes Broski so beloved is that she's relatable every time she pops up on your FYP — which may happen sooner than you'd think (if it hasn't happened yet). Now, there's another way to catch her. Broski is one of the content creators appearing on Smashbox's newest social series Prime Time TV: 5 Seconds to Great Skin. In each TikTok episode, host Trevi Moran asks guests like Broski, Drew Afualo, and Chris Olsen hard-hitting questions about skin care and life as a creator. They have to answer each question in just five seconds, all while wearing one of Smashbox's Photo Finish Silkscreen Primers — hence the "prime" in the title.
After the shoot for her episode, Broski sat down with Elite Daily to share her skin care routine, a book that changed her life, and how she defines self-care.
This interview has been edited and condensed for clarity.
Elite Daily: In Smashbox's 5 Seconds to Great Skin series, you're sharing your beauty secrets. What is one that you couldn't wait to share?
Brittany Broski: Sunscreen. I will sing it from the top of the f*cking rooftop every time. You can get as many facials and procedures done as you want, but to prevent aging, you need sunscreen. My whole family is so pale, so I'll ask everybody, "Did you put on frickin' SPF this morning?" When they say no, I'll shame them because they should be shamed.
ED: What's your go-to sunscreen?
BB: I like Vacation; they're a great brand. I also got a little free sample of the Supergoop and have been into that. It works.
ED: Is there a beauty secret you've wanted to gatekeep?
BB: No! Gatekeeping beauty is no fun. I will sit there and watch beauty secret YouTube videos for literally hours — I think it's fun to learn new techniques. I think learning how to properly bake and set your under-eyes changed my life.
ED: Where do you go to to source skin care secrets and advice? Is it TikTok, YouTube, or any celebs you've met?
BB: I use Tatcha on my face, and I don't really seek out other skin care or new stuff. Everyone's trying to push a product, so I don't trust anyone. It was sent to me in a PR package, I used it, and I was like, "Oh, so this changed my life."
ED: What does your night routine look like?
BB: My night routine is to go to bed after staying up reading until 4 a.m. I always have ice water by my bed. I have one of those Starbucks cups, so I always have it in that. And then, I'll do my skin care at night, shower, and braid my hair.
ED: What about in the morning?
BB: I don't wash my face when I wake up. I just make sure I put on SPF, brush my teeth, and if I'm doing glam, I'll do glam. Then, I'm on the way.
ED: Tell me about your self-care routine.
BB: It starts with a clean space. I let my room get really messy just because I'm always on the go, so I start there. I'll do my laundry, and I'll cook myself a meal.
It's just taking the time to sit down and actually clean. I don't want to do it, but I know that it'll make me feel better when everything else feels very overwhelming. And then, I'll do my pre-shower routine and then the shower routine — exfoliate and lotion — to show some care to my body.
ED: You're constantly creating content on TikTok and YouTube. What do you do to help manage any stress with your busy schedule?
BB: Honestly, I don't have an answer. I have comfort music and videos, which helps sometimes.
ED: What are some of those?
BB: I have certain YouTube videos that I'll rewatch. I listen to Rosalía. I overplay the f*ck out of her albums. It's like a comfort — feels like home. I've also been reading A Court of Thorns and Roses. That book changed my life forever and ever. Amen.
ED: How much screen time would you say you have on average each day?
BB: The answer is a concerning amount.
ED: Some people say that cutting back on their screen time is part of their wellness routine. Would you ever consider that?
BB: I would love to. Jokes aside, it is an addiction. It exacerbates the problem that it's my job, because it's not like I can put my phone down and do my job on my laptop. My laptop is more screen time, so I don't know. It's very hard.
It's a daily struggle for me, but I've picked up reading, which gets me off the phone and lets me dive into a world that isn't social media figures, news, or devastating tragedy or anything like that. That's kind of been my health and love.