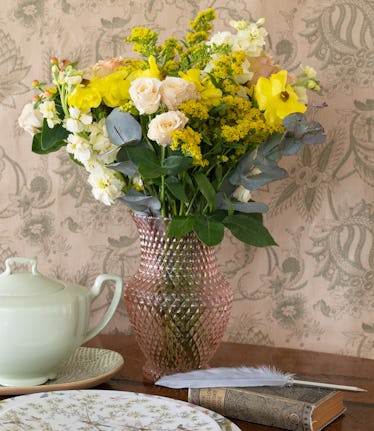 Bridgerton Valentine's Day Bouquets From UrbanStems You'll Burn For
There's even a Penelope and Eloise arrangement for BFFs.
UrbanStems
We may receive a portion of sales if you purchase a product through a link in this article.
Fans will finally get to see Polin — aka Penelope Featherington and Colin Bridgerton — become a thing when Bridgerton Season 3 premieres this year. While Netflix has not revealed an exact premiere date just yet, fan edits of Penelope and Colin have already hit the TikTok FYP from some fans in anticipation of their love story unfolding. You'll likely see a resurgence in Regencycore fashion and aesthetics in 2023 as well, and these Bridgerton Valentine's Day bouquets from UrbanStems are a great example of inspired home decor.
If you've watched the Netflix series from the beginning, you know that the Bridgerton household is infamous for its wisteria covered archway. Floral accents are an easy way to achieve a Regencycore vibe in your home, so treating yourself to a bouquet from UrbanStems is the way to go. Of course, you can also order a Bridgerton bouquet for the Colin to your Penelope or the Duke of Hastings to your Daphne Bridgerton. The Bridgerton collection for UrbanStems has launched just in time for you to order a bouquet for your partner to arrive on Valentine's Day. Aside from chocolates and a cuddly plush, flowers are an ideal V-Day gift — especially when they're inspired by your partner's fave show.
Each one of the Bridgerton bouquets from UrbanStems is inspired by one of Julia Quinn's characters from the Bridgerton series and are Lady Whistledown-approved. You can either pick your bouquet based on their fave flowers, color, or the character they relate to the most. There is even a bouquet based on Bridgerton BFFs Penelope and Eloise, so you have an option to get your bestie for Galentine's Day on Feb. 13. To find which bouquet your loved one will "burn for," you'll first want to see what the Bridgerton bouquets from UrbanStems look like.
The Peneloise Bridgerton Bouquet For Besties
The most budget-friendly of the Bridgerton bouquets is the Peneloise ($75), which as you can guess from the name is inspired by Penelope and Eloise. This BFF bouquet is perfect for your bestie with a combo of more whimsical blooms like peach roses and hypericum. The arrrangment has plenty of yellow butterfly ranunculus, which will remind you of every yellow dress Penelope has ever worn on the show — which is a lot.
The Unbridled Passion Bridgerton Bouquet For A Colorful Couple
Season 2 of Bridgerton focused on Anthony Bridgerton's relationship with Kate Sharma. The slow burn of their romance really had fans cheering when they finally got together at the end of the season. This bouquet is inspired by that fiery "will they/won't they" along with the more jewel toned colors that Kate wore throughout the season.
With a mix of hot pink roses, orange ranunculus, and dark blue delphiniums, the Unbridled Passion is bit more expensive at $110. It's worth it for someone you care about as much as Anthony loves Kate. Plus, it'll add a pop of color to your work from home desk that will remind you of your partner whenever you see it. Now, that's too cute.
The Burning Romance Bridgerton Bouquet For Your True Love
The OG couple who started it all was Daphne and Simon. They burned for each other and are the reason you were immediately hooked on the Netflix series. This bouquet inspired by them, the Burning Romance, is just as romantic as their love story with roses and other swoon-worthy blooms, like chrysanthemum, Cremon, ranunculus, and calla lilies.
Since red roses aren't cheap, this bouquet is $140. However, you can make your blooms last longer by preserving them in a DIY project. Something like air drying, pressing your flowers in a picture frame, or placing the blooms in resin will make your Bridgerton bouquet last for years.