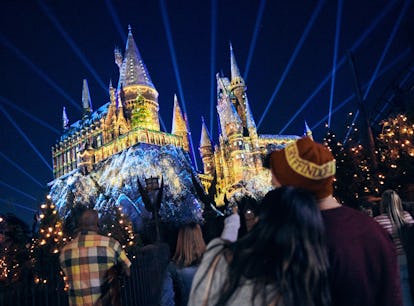 This Year's Holiday Theme Park Events Include Magical Light Shows And Festive Food
It's the merriest time for a theme park vacay.
Courtesy of Universal Studios
It's the most wonderful time of the year at all your favorite theme parks across the U.S. Many of your favorite parks are getting into the holiday spirit by hosting their own winter festivals and holiday-themed events. With tons of sparkling decor and delicious limited time menus with 'Gram-worthy offerings, there is no better time to add some of the best theme park holiday 2021 events to your to-do list than right now.
The holidays are when theme parks truly pull out all the stops. Not only do you get to enjoy your favorite rides and attractions, but there are things like exclusive entertainment and special characters that only come out during the holiday season. For instance, you can get a castle pic from Disneyland 365 days of the year, but only during the holiday season is Cinderella and Sleeping Beauty Castle covered in the most gorgeous lights. It's like an added layer of pixie dust you need to see IRL.
Many wanderlust destinations are celebrating the season with holiday events. You just need to know what's going on and when to visit. As always, you'll want to follow the most up-to-date domestic travel recommendations from the Centers for Disease Control and Prevention (CDC) as well as any health guidelines the parks have in place. With the holidays right around the corner, you're ready to pack your bags and head to wherever you can get delicious treats, festive souvenirs, and unique experiences you'll remember forever. So, what are you waiting for? It's time to experience one of these 11 theme park holiday 2021 events to make your December even better.
The CDC recommends traveling only after you're fully vaccinated and your vaccine has become fully effective. If you're not fully vaccinated and must travel, check the CDC guidelines before you book. Check your destination's vaccination and testing requirements before you depart.