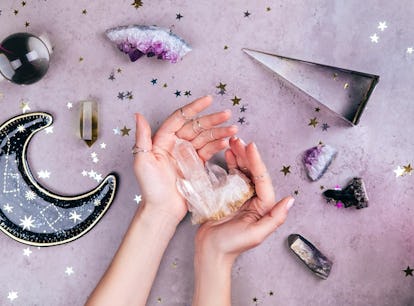 10 Magical Gifts That Will Make Your Fellow Witches Feel So Seen This Season
Cast a spell over the holidays.
Anna Efetova/Moment/Getty Images
What's the one thing that's harder than remembering to get all your holiday shopping done on time? Finding the perfect gift, of course. The key lies in taking time to get to know a person, remembering their interests, and purchasing an item that not only captures their essence, but proves how well you understand them. Cookie cutter gifts get the job done, but do they linger in the recipient's memory? Not as much as a gift that speaks to their soul will. If your loved one happens to be a witch (or, at the very least, someone who has an interest in the occult), I've curated a list of the best gifts for witches that will cast a spell on their heart.
Every witch is deeply unique, but they all have one thing in common: an intuitive connection with the unseen forces that surround us all. Witches love penetrating deep truths, admiring natural beauty, embracing creativity, and conjuring the future. If you have a witch in your life, I bet you know all about their nurturing and enchanting ways. They heal you when you're feeling down and they always know how to turn a boring situation into a mystical one. Your fellow witch has probably done so much for you, so why not share the wealth and do something for them?
Any one of these gifts will leave a witch feeling so seen:
We only include products that have been independently selected by Elite Daily's editorial team. However, we may receive a portion of sales if you purchase a product through a link in this article.