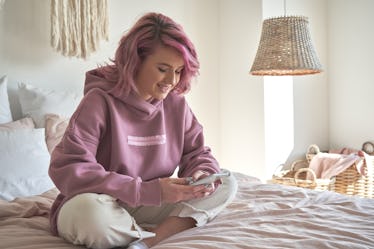 10 Bama Rush 2022 Dorm Decor Pieces That Are Trending On TikTok
Sorority-approved hacks for your fridge, bed, and more.
Shutterstock
It's finally #BamaRush season, and sorority TikTok is already jumping into this year's room decor trends. It's so important to furnish your dorm room in a way that sparks joy and motivates you to have a great school year ahead. It should be comfortable, organized, and versatile for late-night study sessions or sleepovers with the girls. Above all, it should be aesthetic AF. If you're loving all the dorm decor content from the sorority sisters on TikTok, check out these trending 'Bama Rush 2022 dorm decor must-haves to order for your room this semester.
If your style is colorful, clean, and glamourous, these Bama dorm decor trends are probably right up your alley. This year's popular dorm design definitely includes two dorm beds lifted up high on risers in front of headboards, side tables will tall lamps, bright hues, and personal touches like monograms and jewelry displays. @sockbunstudios, a #RushTok creator on TikTok, even came up with a "bingo" card for all the staple pieces for a 2022 'Bama rush dorm. Next time you scroll for dorm tours and decor inspiration, see how many spaces you can cover on the board.
Rush week has probably been trending all over your "For You" page lately, because it's such a fun time to make new memories and start the new year out right. If you're new to Greek life, you may be itching to find out what house you'll live in and what lifelong friends you'll meet. You're probably so busy with all the festivities that you've barely had time to map out your dorm room with your roommate. Don't rush through your decor, because we've got you covered. If you need some inspiration, check out these #BamaRush 2022 dorm decor videos on TikTok for 2022.