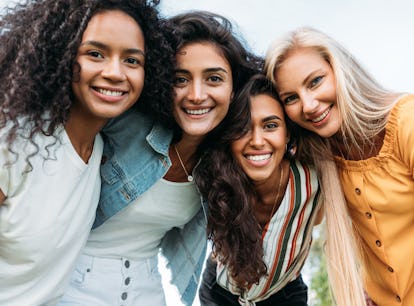 Here's A Breakdown Of Sorority Terms For Anyone Confused About Rush Week
It's your guide to Greek life 101.
Artem Varnitsin/EyeEm/Getty Images
Even if you've seen movies like Legally Blonde and Sydney White a million times, the Greek system can be a bit confusing to anyone who hasn't been a part of it. Of course, you know basic terminology like sorority houses and sisters. However, you may be wondering what rush week is, especially if you've found yourself on #BamaRush TikTok recently.
If you don't have friends or family in Greek life to fill you in, you might find yourself caught up in the spectacle and drama of rush week while being totally clueless about what's actually going on. Many TikTokers are going through their own rush week journey while scrolling through the FYP for tips and insights. Though watching hopefuls show off their OOTDs while doing dance trends at the University of Alabama is grade A entertainment, chances are you'll encounter a term (or five) during rush that you don't understand.
For anyone who's a little lost, a glossary with some lesser-known words and phrases will help you break down what's happening and navigate the whole process much more seamlessly. From rush week to Bid Day, here are some sorority terms explained for anyone needing a Greek life 101. While you could always try to figure it out with a marathon of Greek or a rewatch of The House Bunny, this helpful rush week guide will do all the work for you.