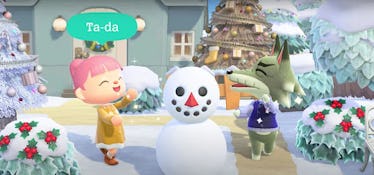 Here Are All The Winter Things To Do In Animal Crossing This Time Of Year
Hanging with your snowboys.
NINTENDO
You may have noticed over the past few months that your island oasis in Animal Crossing really goes all out for the seasons. In the fall, your space was likely covered in maple leaves, preparing for the arrival of the turkey chef that would cook you and your villagers a miraculous meal. Now, the shops are decorated for the holidays, and you may be catching a whiff of winter things to do in Animal Crossing, such as catching snowflakes and planting holly bushes.
Per usual, Isabelle gave you a heads up that she'd be working her magic in her morning announcements. She gave you the scoop on DIY recipes to track down in December, and may have even notified you of the first Animal Crossing snow on your island home. But, in the true spirit of adventuring, Animal Crossing always leaves out a few details in these announcements for you to discover on your own. These Animal Crossing winter details may include the seasonal flowers you should buy and plant right now, but are only aware of when you talk to Leif. Or they may involve the fresh toys and games for sale at Nook's Cranny that would make the perfect gift for Filbert, Goldie, Beau, or June.
Luckily for you, we here at Elite Daily are totally tapped into what to do in Animal Crossing this time of year like how to catch snowflakes in Animal Crossing and these other activities that are snow much fun. So, dress your character in a hat and adorable sweater, and get to 'em.
This article was originally published on