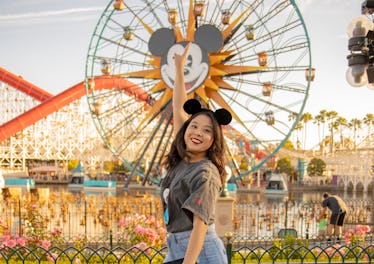 9 Disney IG Accounts To Follow When You're Daydreaming About The Parks
You would love nothing more than to be at Disney every single day. When you're not spinning around in pretty teacups, posing in front of a dreamy castle, or enjoying Mickey-shaped treats, you're probably scrolling through Instagrams of people at Disneyland and Disney World (and getting serious FOMO in the process). Since you're already on the 'Gram, you'll want to follow the best Disney Instagram accounts that'll take your love for the parks to the next level.
These are the accounts that will let you in on the latest Disney merchandise, food, and rides that you need to add to your to-do list when planning your next magical vacay. Along with the latest scoop, some of these Disney Instagram accounts are amazing sources to draw style inspiration from as well. Not only do they know the coolest outfits to rock at the parks, but the best places to snap pics once you're there as well.
Now that both Walt Disney World in Florida and Disneyland in California are back open, you may be planning a trip in the future once you're fully vaccinated. The Centers for Disease Control and Prevention (CDC) says that it's safe for domestic travelers who have been fully vaccinated to get away while still following the CDC's guidelines during their #vaxication. While Disneyland is only open to California residents at this time, Walt Disney World is open to all travelers. WDW is following strict CDC guidelines, so you must wear your mask, maintain social distancing from families that are not part of your party, and you're encouraged to get vaccinated before going. With all of that in mind, you may be down to plan a magical vacay with your besties in the coming months. The best Disney Instagram accounts can be your tour guides to help make your trip easier and know any park updates as they happen.
For instance, you know the castle (Cinderella's or Sleeping Beauty's, depending on the park you visit) is a quintessential backdrop, but Disney influencers know just the right angles and poses to make their photos look like they're sprinkled with an extra bit of pixie dust. By following these Disney Instagram influencers featured on this list, you'll likely walk away from your next vacay with a ton of amazing pictures and memories that will last a lifetime.
This article was originally published on