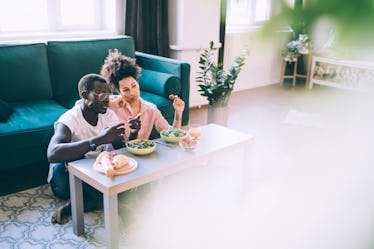 7 Fun Plans To Make In Your Apartment If You & Bae Just Moved In Together
Shutterstock
If you and your partner just moved in together, then you might have a lot on your mind. You may be thinking about the amazing milestones and cozy dinners you're going to have together, or wondering where you're going to hang pictures and mug racks. You may also be thinking about exciting and fun things to do with your partner in your new apartment.
It's understandable, and now that you have your own place the options are seriously endless. In your spare time you two could build a fort like couples do in romantic comedies, using all the cushions from your new couch. Or you could cook a gourmet meal and try and use every utensil in your kitchen, including the giant cookie scoop your mom gifted you. Not to mention, you could have friends over or start traditions you'll carry with you from one year to the next.
However, like deciding on what restaurant to eat at when it's a Friday night and neither of you feel like cooking, it may be difficult to narrow down your options. You may be so excited to start this chapter of your life together that you don't know which fun, unique, and clever thing to do first. Here are seven options to help you get started. Pick a few and make a plan for them right now.