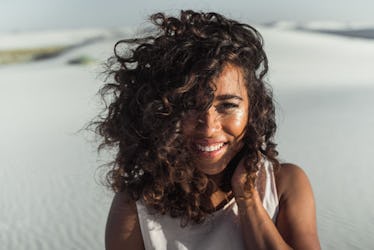 The Best Foods To Add To Your Diet If You Constantly Get Breakouts, According To Experts
It personally seems like I'm on an endless mission to figure out how to get the clearest skin possible. But since I'm not an expert in any sense of the word, it can sometimes feel like a shot in the dark when I'm trying to adjust my diet to clear up a breakout. Luckily, experts have identified some anti-inflammatory foods to fight acne, so you can start shifting your diet to get the glowing skin you've always wanted.
Now, "anti-inflammatory" is a mouthful of a word, but an anti-inflammatory food simply refers to something that fights chronic inflammation, which is when your body's defense mechanism in response to injury or harm lingers for too long, "leaving your body in a constant state of alert," according to Healthline.
And, believe it or not, anti-inflammatory foods don't just play a role in beating breakouts; they might even help you live longer, too. A new study, recently published in the Journal of Internal Medicine, looked at the diets of over 68,000 Swedish adults over a span of 16 years, and found that the participants who closely followed an anti-inflammatory diet had an 18 lower risk of dying from any cause.
But besides potentially extending your life, nourishing your body with foods that cut down on inflammation can potentially heal your skin, too. So what exactly do you need to eat to keep acne at bay? Definitely a whole lot of fresh foods. "An anti-inflammatory diet includes almonds, blueberries, tomatoes, olive oil, and salmon," Dr. Ted Lain, a board-certified dermatologist based in Texas, tells Elite Daily over email. "Essentially the Mediterranean diet is anti-inflammatory."
Don't be discouraged if your face isn't cleared up overnight, though. Dr. Lain says that it could take a few months for your body to adjust to the new food choices and balance out. So just keep adding these tasty new foods to your daily meals, and see how your skin reacts. Besides, these foods are delicious, so what can it hurt?