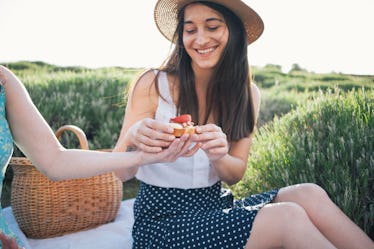 Experts Reveal The 4 Benefits Of The Mediterranean Diet That Make The Switch Worth It
While I'll admit that I instantly become suspicious of anything labeled as a "diet," I'm totally fascinated by all things that are even remotely Italian. So when I first learned about the Mediterranean diet, I was more than happy to give it a chance. Of course, Italy isn't the only country on the Mediterranean, but any food choices that allow me to pretend I'm by the sea in Portofino are a win in my book. On top of that, the benefits of a Mediterranean diet are as plentiful as the number of cups of lemon gelato I'd gladly eat each day.
In case you need a refresher on what the Mediterranean diet consists of, it's primarily about eating plant-based foods, including whole grains, fruits, and veggies, but it also calls for small amounts of fish, as well as healthy fats like olive oil and nuts. And, true to its name, the Mediterranean diet even includes red wine in moderation, according to the Mayo Clinic. The main foods you'll be saying goodbye to if you follow this way of eating are dairy products and red meat, which isn't too bad, right? Besides, the health benefits of this diet just might be worth swapping your favorite cheeseburger for a salmon burger.
According to Eudene Harry, M.D., a board-certified doctor in emergency medicine and holistic integrative medicine and author of the book Be Iconic, reaping all of the health benefits of this diet requires a bit of a shift in your priorities. By that, she means it's important to prioritize quality nutrition over counting calories, and focus on giving your body as many nutrients as possible. "For example," she tells Elite Daily over email, "instead of using butter on your slice of whole grain toast, try dipping it in a little olive oil flavored with your favorite herbs and spices."
Making these types of simple, yet super healthy tweaks to the foods you already love to eat will help smooth out your transition to the Mediterranean diet. If it's something you're really considering, here are the benefits you'll reap from this way of eating.