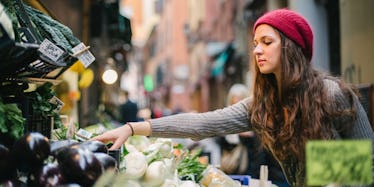 5 Reasons Why The Mediterranean Diet's Perfect For People Who Don't Want To Diet
Except for a few months of slipping up here and here (ugh, college), I've followed the Mediterranean diet my entire life. In return, I've been rewarded with good health, a balanced weight and delicious meals.
It all started with my mom back in Bulgaria, who had done a tremendous amount of research on nutrition and concluded she'd raise me following the Mediterranean diet.
I've been a foodie my whole life and have pretty much kept the same low weight for the past 10 years, all thanks to the diet I was raised on.
Here are the five reasons why everyone could benefit from the lifestyle.
1. It's delicious.
We, the Mediterranean crew, are big foodies. We love to slather our roasted vegetables in rich olive oil and dip whole grain bread into the delicious concoction.
We never deprive ourselves.
Think that's good? Well, let me tell you, we also love our pasta with a glass of riesling. As long as we don't overeat, it's all good.
The Mediterranean diet promotes eating together with friends and family as much as it calls for healthy ingredients.
The staples of the Mediterranean diet include olive oil, nuts, seeds and legumes, fish and veggies.
2. Ingredients are easy to find and prepare.
Since we shop seasonally, everything we eat is fresh.
The most dedicated of us hand-pick our tomatoes and salmon at the farmer's market on the weekend. If that seems like too much, everything in the diet is easy to find at the local grocery store.
Most Mediterranean countries still have open-air markets, so you can go and choose your ingredients on the spot. I make a quick stop at Barcelona's La Boqueria in the morning for a freshly caught piece of tuna or mackerel.
The Mediterranean diet relies so heavily on the quality of its ingredients that recipes are usually very simple. Take pasta primavera for example. Cook some pasta with olive oil and add fresh garlic, basil, tomatoes and whatever vegetables you've got lying around. Simple as that.
3. It's never boring.
Since the diet is seasonal, you will constantly have new foods to choose from. If it's winter, we'll eat oranges, then when it's summer again, we'll indulge in some delicious cherries. It's cool to sneak in some Chinese caqui and dragon fruit to keep things interesting.
Eating fresh produce instead of genetically modified crap is the main goal of the diet. You'll never see a winter recipe on this diet call for strawberries because that's not natural.
We have a realistic approach and it pays off. You'll never be in a "food coma" with our recipes because they are light and pleasant, just like our climate.
Lots of older people along the Mediterranean still have their tiny gardens outside of big cities, so if you manage to befriend someone who's grandma lives in the countryside, make sure to visit!
4. We reap some serious health benefits.
Research shows the Mediterranean diet fights inflammation, keeps your skin looking fresh, helps ease pain and lowers your risk of cancer.
That keeps your heart healthy, which is no surprise seeing as how we enjoy a more leisurely pace of life (and eat lots of olive oil).
It takes care of your brain, because it calls for ingredients with lots of antioxidants such as nuts and berries.
It also keeps us living longer and aging better.
5. It's not a diet, it's a lifestyle.
Following a Mediterranean "diet" doesn't feel like a diet at all.
I'm sure you've heard how Spain has a two-to-three-hour siesta every day, right? That's where the Mediterranean diet comes in.
Once the clock strikes 2pm, instead of reaching for a sugary donut or a third coffee, we go home to mom or grandma and have a long lunch together. That may include grilled chicken and quinoa, stuffed peppers, herbed lamb and a glass of wine or a beer.
We enjoy our food and each other's company. This is why we consume mindfully and value the whole experience, which is why we never have to deprive ourselves. There's no stuffing face with pizza alone in front of the TV and then running on the treadmill for two hours on the Mediterranean diet.
We're all about feeling good and enjoying life.
Live a little, give it a try.