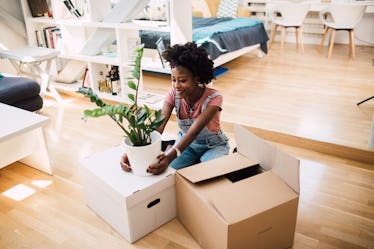 These Clever & Cute Planters On Etsy Are Made For Your Fave Soil Mates
MixMedia/E+/Getty Images
You've given each of your houseplants a name and personality, but now it's time to give them an adorable spot in your home. You could put the monstera you named after Moira Rose from Schitt's Creek near a sunny window, or a shy succulent on a tucked-away shelf. When you're trying to find your favorite soil mates their dream homes, don't forget to snag them one of these funny and clever planters on Etsy, too.
These clever planters on Etsy are not your average clay pot. They're not only crafted by talented independent sellers from around the world, but also feature sweet references to your favorite shows or puns that only a self-proclaimed planet parent would appreciate. Whenever you're video chatting with your friends, they'll instantly notice the boba-inspired pot in the background and say, "Oh, I need that." Before you know it, you will be influencing plant parents everywhere to buy cooler and funnier pots.
You can choose one of these funny planters on Etsy based off your plant's personality, or just purchase one that makes you smile because it references the Jonas Brothers' "Sucker." Truthfully, we're total succas for all of these planters, and be-leaf you should add at least one to your living space.
We only include products that have been independently selected by Elite Daily's editorial team. However, we may receive a portion of sales if you purchase a product through a link in this article.