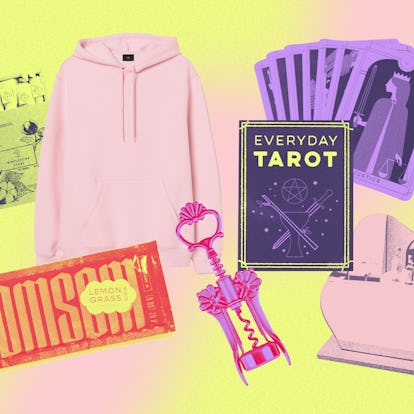 These 10 Bridesmaid Gift Ideas Are So Unique & Actually Useful
Nothing but the best for your "I do" crew.
It's traditional for a bride to give their bridesmaids a gift before their big day. While this is a superb opportunity to load your friends up with Champagne, matching robes, and stemless wine glasses that say, "I'm in the 'I do' crew," there are so many other bridesmaid gift ideas that are actually unique that you can shop for, too. These are the gifts that'll show your appreciation, and be useful and welcomed additions to your BFFs' homes.
Although any gift is a sweet way to thank your bridal party for their help and support on your wedding day, unique bridesmaid gift ideas can be a bit more personal. They can show your bridesmaids that you will always put time and effort into them like they have done for you between fittings and elaborate crafting nights. Plus, they can be paired with cute, custom jewelry, or wedding-themed candles that smell like roses or the flowers in your bouquet. If you want to give your crew a mix of both classic and unique bridesmaid gifts, you totally can.
The point is that these unique bridesmaid gift ideas will give your BFFs real heart eyes, and won't get put in a cabinet or drawer where they'll never be seen again. Your bridesmaids will actually use and love each of these gifts beyond your big day, and excitedly say, "Yes!" when receiving them.
We only include products that have been independently selected by Elite Daily's editorial team. However, we may receive a portion of sales if you purchase a product through a link in this article.