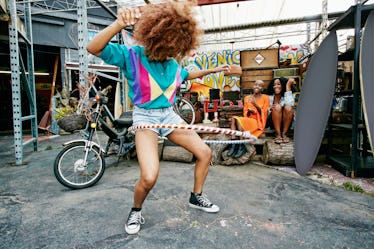 You Can Do All Of These Unique Spring Fitness Activities Right In Your Backyard
Peathegee Inc/Getty Images
For the past few months, your fitness routine has consisted of going for walks on your treadmill, following workouts on your TV or computer screen, or shoveling snow. But with the weather getting warmer, you're more than ready to take your workouts outside. These fun outdoor spring fitness activities you can do in your own backyard will change things up and motivate you to put on your good leggings once again.
If you're the type of person who likes to work out with a group of friends but can't be with them in person, you can do these outdoor spring fitness activities with your BFFs via FaceTime or Zoom. Like you, they can toss on a comfy pair of leggings and sneakers, head out to their own backyard on a sunny day, and set up their phone or laptop on a nearby chair. Your roommates can also join in on the fun, and laugh with you while tossing a frisbee, putting on their very own miniature golf course, or speed-gardening.
Notably, these outdoor spring fitness activities don't require much. You can participate in most with just a yoga mat, a set of free weights, and your shiny attitude. All the details are below, so change up your workouts once and for all.