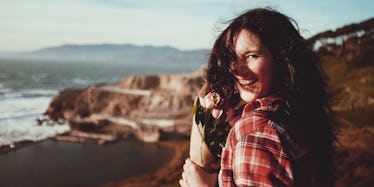 20 Unpredictable Things You Should Have Added To Your 20s Bucket List Already
Your 20s is the time for checking new experiences off your bucket list, making spectacular memories, and plenty of those "Are we really doing this?" moments.
There are just some things you have to do in your 20s, because why the heck not? We owe it to ourselves to live on the spontaneous side, and have the time of our lives.
Bucket lists are all about embracing your life to the fullest, and there's no better time to cross some of those things off your list than when you're in your 20s.
To get you started, here are 20 unpredictable, fun things that should have been on your bucket list, like yesterday.
1. Drop A Little Cash On Something You Dream About
Whether it's a fun experience, or that adorable puppy you keep thinking about, go for it.
2. Crash A Wedding
How hard can it be? Call up your bestie, and get your wedding crashers game faces on.
3. Replicate Your Favorite Food From Your Fave Restaurant
Save some of your cash and learn how to cook something really delicious within the comforting environment of your own kitchen.
4. Run A Long-Distance Race
Whether it's a 5k or a marathon, being able to say you completed one is low-key the greatest feeling ever.
5. Road Trip Across The Country, With The Ultimate Playlist
Grab some of your besties, and pile in the car for a once-in-a-lifetime road trip, complete with the best beats.
6. Party Hard All Weekend Long In Las Vegas
Keep your eye out for cheap plane tickets, because Vegas is a city you have to see at least once in your 20s.
7. Try To Break A World Record
Competitively eating a pie as fast as you can? Hula-hooping? The world is truly your oyster. You'll always remember that one epic time you gave it your all.
8. Go Backpacking
Whether it's across Europe, or a city a few miles away from you, spend some time living out of your backpack and exploring the world.
9. Create Your Very Own Ultimate Pub Crawl
Design the perfect pub crawl for you and your friends to hit up together.
10. Make A Time Capsule For Yourself
Collect a bunch of great photos and memorabilia of your life now so you remember all of the good times later. Put it somewhere safe to find when you're at another stage in your life.
What kind of bucket list is it if it doesn't include hitting up a nude beach?
12. Spend A Night Under The Stars
Forego the camper and fancy tent, and spend a night camping with just the bare necessities.
13. Call In Sick When You're In Need Of A Little Re-Charging
Play hooky with your SO and spend the day making memories.
14. Channel Grease And Embrace A Summer Romance
"Summer lovin', happened so fast..."
15. Throw A Party For Your Favorite TV Show
Life's too short, so pretend it's Halloween whenever you feel like it and dress up like your favorite characters.
16. Film Your Own Music Video
Future you will think it's pretty hilarious, and the laughs will last a lifetime.
17. Prank Your Best Friend
Whatever you decide to do, make sure you have the camera ready.
18. Learn A New Language In A New Country
Pack up your things and just go for it. You'll be amazed at all of the new things you can learn.
19. Keep A Journal Next To Your Bed
Grab a pen, and get writing. It could be your personal memoir or a diary entry; just find a way to capture your life on paper.
20. Make Convo With A Stranger At A Bar
Your next SO? A potential best friend? Who knows -- the exciting possibilities make it worth it.