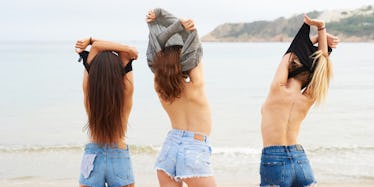 5 Most Beautiful Nude Beaches For Those In Need Of Some Vitamin Sea
If you're in major need of some vitamin sea in your life, there's no better place than having your booty parked in the sand to get your prime fill.
Add a pitcher of frosé, in addition to a fab pair of sunnies, and you're set to take on the beach in style.
The way I see it, summer is much too short to chill inside in the air conditioning (cocooning yourself in a fuzzy blanket) watching Netflix. So, why not soak up those beautiful rays of sunshine all summer long like it's your damn job?
If you're all about taking that "sun's out, buns out" mentality to the max, there are many breathtaking nude beaches across the globe to explore throughout the summer.
You'll be having those good times, without the tan lines, before you know it.
Don't forget to lather up your body in sunscreen for protection. Sunburned nipples would just not fly… and hurt like a total betch.
Round up the girl squad, pack up your bags, and embrace those carefree summer vibes at these five beautiful nude beaches.
1. Paradise Beach -- Mykonos, Greece
This majestic island in the Aegean Sea is known for its windmills, rows of fishing homes lining the sea (Little Venice), and remarkable beaches.
In the 1960s, hippies actually introduced the nude beach vibes to Mykonos for the first time at Paradise Beach. It grew to be a focal part of nightlife and beach parties.
It's clear as to why this breathtaking stretch of sand got its name; Paradise Beach is truly a slice of paradise.
2. Playa de los Muertos -- Cabo de Gata, Spain
Playa de los Muertos is a gorgeous beach situated along the turquoise waters of the Mediterranean Sea. It can only be reached by walking through the trails at the top of the cliff.
You can go topless, or totally nude to swim with the fishes at this peaceful haven.
The fishing village of Agua Amarga and the El Faro de Mesa Roldán lighthouse are both nearby attractions to check off your bucket list after the beach.
3. Spiaggia di Guvano -- Corniglia, Italy
Glorious view along the way, down to Guvano beach, with Corniglia off in the distance pic.twitter.com/ZgBtmG30go — Michael Horne (@dalluva) June 13, 2016
This clothing-optional destination is a small pebble beach situated in Corniglia village. It's pretty hard to get to, which is what makes it so much more of a hidden gem.
The crystal clear waters and exquisite Mediterranean scenery make it an ultimate spot to dive into the deep blue and relax on the beach all day long.
4. L'Escalet Beach -- St. Tropez, France
The nice Escalet beach, seen from the shore path #Provence #onepicaday pic.twitter.com/nvOVB2iSZw — France in Photos (@francephotos) April 7, 2017
What's more picturesque than this view? I don't know about the rest of you, but I certainly feel like taking a dip in that refreshing water ASAP.
L'Escalet highlights a combination of pebbles and sand. You'll find people putting their snorkeling gear on to explore the ocean life, because the waters are crystal-clear perfection.
5. Little Beach -- Maui, Hawaii
Makena State Park Perched upon the coastline Makena's Big Beach (Oneloa Beach) and Little Beach (Pu'u Olai Beach) pic.twitter.com/nUQhjcAU9q — Kathleen (@IceQueenkmb) November 10, 2014
While being nude in public is actually illegal here, it's apparently generally welcomed at this nude beach.
You can go surfing, immerse yourself in the gorgeous surroundings, and stick around for fire dancing and a drum circle (which take place Sunday afternoons).