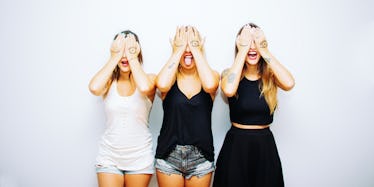 11 Tiny Matching Tattoos That Are Perfect For Getting Inked With Your Squad
Tattoos tell a meaningful, beautiful story about who we are.
So, what better way to bond with your group of friends than by getting small, matching tattoos that sum up what your friendship is all about?
Because of the countless demands of #adulting life, you may not have the chance to be around your friends as frequently as you'd like to. That can be incredibly frustrating and disheartening.
Don't fear, ink is here.
Getting matching tattoos with your girlfriends will not only be a cherished memory, but you'll wear that memory like a patch of honor every single day of your life.
It will seemingly be like you're all carrying each other during the routines of your different lives. And, whenever asked about your tattoo, you'll get to talk about the spectacular memory over and over again.
If you think finding the right tattoo to perfectly describe your bond might be a bit be complicated, there are countless ideas you may all actually agree upon.
1. One Incredible Word Or Phrase That Defines Your Dynamic Family Of Friends
2. Symbols Or Words From Your Favorite Books
3. Coordinates Of The Place Where You All Met
4. Tiny Hearts, Because The Love Is So Strong With These Gems
5. Birds Of A Feather Flock Together
6. Almost Anything Associated With A Cute Disney Movie
7. A Small Skyline Sketch Of The City You're All From Or Currently Living In
8. Everyone's Initial From Their First Name
9. A Small Ruler Sketch
Distance doesn't define your friendship.
10. A Pinky Promise, Because You've Never Broken Them With One Another
11. A Puzzle Piece
Life is quite puzzling at times... but with one another, you'll always have a place.
Whether this will be your first tattoo or a remarkable addition to many, make it the tattoo — the one that solidifies the unbreakable bond between you and your forever friends.