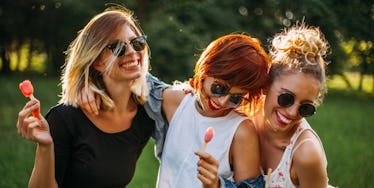 6 Ways Thinking Like A Boyfriend Can Help Your Friend Get Over Her Breakup
There may be nothing worse than going through heartbreak on your own, but watching it happen to your best friend can be just as bad. No matter how much you want to help, it seems impossible to make her feel better.
If this is the case, you need to stop thinking like a BFF and start thinking like a boyfriend. No, not the one who just broke her heart... the one she deserves.
He probably wouldn't just grab a pint of ice cream and a DVD, come over and call it a day. Instead, he would slip into his shining armor and do something truly meaningful, mood-boosting and memorable.
So, how can you do that without – you know – being an actual boyfriend? Here are six things her ex probably failed to do in order to make your best friend feel as loved as she deserves:
1. Take her dancing.
There are way too many men who refuse to cut loose on the dance floor. If your BFF's ex was one such boyfriend, you need to make up for lost time.
Take her out to her favorite spot for some dancing, or maybe sign up for lessons in the style of dance she has always wanted to try.
2. Make her laugh.
Chances are, there are some things your best friend finds really funny that her ex didn't. Fortunately, the two of you connect on a friendship level, which means your senses of humor are likely well-aligned. Plan something for the two of you to do that'll have you both giggling.
You could find tickets to a local stand-up or improv comedy club. You could grab tickets to the latest movie in theaters.
You could even pick up a funny book by one of her favorite female comedians, like Mindy Kaling or Tina Fey. No matter what, laughter is one of the keys to have her feeling better.
So the sooner it happens, the better.
3. Listen to her music.
Best friends tend to be more indulgent when they're together, and that includes the cheesy pop music you blast and scream in the car.
Most boyfriends don't want to listen to Taylor Swift or Katy Perry in the car... let alone at a concert. You could be the best friend ever if you pick up concert tickets for one of her favorite musicians. You can spend the night singing along.
4. Feed her something fancy and tasty.
OK, I DID say ice cream and rom-coms weren't the keys to solving a broken heart… but that doesn't mean you shouldn't supplement your efforts with some sweets.
You can take things up a notch and forego the classic frozen pints for something a bit fancier, though. You should still schedule that movie night. But skip out on the bag of chips and stock your coffee table with an assortment of nuts and candy, so she can have her pick of what she wants to snack on.
You might also remember her ex didn't like her favorite food nearly as much as she did. Plan a nice dinner at her favorite restaurant and make a night of it.
5. Dress her up.
There's nothing like a new outfit to boost someone's self-confidence and after a breakup, your friend probably needs a bit of that restored. It's a known fact the majority of men don't love to go shopping for hours on end, like the two of you do.
So, treat your bestie to a day at the mall. Pick out some looks you know will flatter her, and then go out after to show them off.
6. Be there for her.
Finally, the best boyfriend ever would be completely emotionally supportive.
Sure, it's wonderful to treat your BFF to dinner or take her mind off her heartbreak with a bit of dancing. However, the best thing you can do for your friend is give her strength until she finds a boyfriend who will support her just as fully as you do.