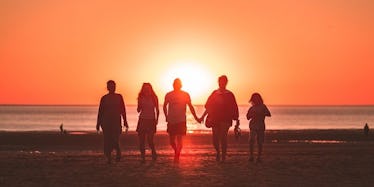 6 Things You Need To Do One Last Time With Your BFFs Before Going To College
Kevin Delvecchio/Unsplash
If you're going to college in the fall, you definitely want to make the most of the time you have left with your hometown crew.
You may be extremely excited about your new life in college, but don't forget to make some solid plans with your besties before you head out of town.
They've been your main squad for the past few years, and you wouldn't have gotten through high school without them by your side.
This summer may be the last time you're all together in one place for awhile, so you should make the most of it up until the last minute.
Here are six things you need to do with your besties before going to college.
1. Host A Big Sleepover
Throw a huge sleepover party like you did back in elementary school.
Don't forget all of the essentials -- nail polish, board games, blankets for forts, brownies, wine, and a great romantic comedy.
Having one last all-nighter with your friends will make for great memories you can cling onto when you head off to school.
2. Plan An Instagram-Worthy Photo Shoot
You'll need to deck your dorm room out in pics, so getting your friends together to take some great photos on the beach is a perfect excuse to hang.
You can really have fun with the theme of the photo, and make it specific to your girl squad. I had a funny photo shoot with my friends years ago, and the pics are still up in my apartment.
3. Go To Your Favorite Food Spots
It's a given you're going to miss all of your favorite hometown food when you're off at college. The burgers in the cafeteria will not be the same as the patties from your favorite burger joint.
Make a point to go to all your favorite foodie spots one last time before leaving. It will be a fun check-off list for your friends to have fun doing together.
4. Shop For Your Dorm Room
You need furniture and the essentials for your new dorm. So, why not bring the girls along for a second opinion on decor?
Whenever you get homesick, you'll look around your dorm and the good memories of how you picked out everything together will make you feel better.
5. Go On A Spontaneous Road Trip
Take a cue from Britney Spears and Zoe Saldana, and have your own version of Crossroads one last time with your high school friends.
Go on an epic road trip to somewhere new and exciting.
The destination should be killer, but it's the journey there that you'll remember and smile about during your late-night study sessions when you're away at school.
6. Throw A Back To School Rager
It's time to throw a huge high school party that would be worthy of any teen comedy, and right now is truly your last chance.
Get all your friends together, and throw a rager with many keg stands to come.