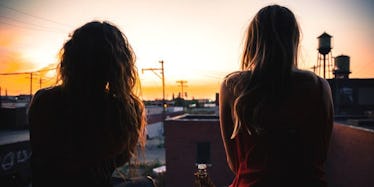 6 Things Only True Best Friends Will Check Off Their 20s Bucket List Together
Yours 20s bucket list is a great way to make the most of that period of your life; to live it up before you begin yet another amazing chapter.
Sometimes, it takes a very special someone, aka your best friend forever, to go through your bucket list with.
Whether you've been best friends your entire life, or only for a few months, you know you two are truly best friends when you check these six things off your bucket list.
1. Road Trip Across The Country
Road trips can definitely lead to fights and friendship rifts, but with the two of you, there's no worry. What better person to see all the beautiful sights possible than with your BFF?
2. Hit Up A BFF Resort
Sandal's Beaches has a resort package exclusively for you and your bestie. What's better than that?
Skip vacationing around all of the couples; save up your dollars, and spend a week in paradise making memories you two will look back on forever.
3. Take A Spontaneous Weekend Getaway
If you're having the work week from hell, why not call your girl and plan a weekend trip to a new city for the upcoming weekend?
If you're a duo who loves to travel, there's probably no one else on the planet you'd rather be adventuring with.
4. Get Matching Tats
Sure, you can get matching tattoos with basically anyone, but the best tattoos are the meaningful ones. True besties aren't afraid to get permanently inked, because they know they're together forever.
5. Move To A Brand New City
Whether you're both looking for a location change, or pursuing big jobs in a booming city, you'll be the ultimate best friend duo crossing of a major, exciting bucket list item.
6. Go On A Foodie Tour
There's no one better to take on the ultimate Instgram-worthy travel trip than your bestie. Make a list of the best drinks, meals, and desserts you never thought you'd try, and hit up as many as you can each day.